"Are we ever going to get to kill anyone?" the hero of "Jarhead" pleads.
While most modern war movies stress the horror and insanity of combat, this latest drama focuses on the boredom of soldiers waiting around for combat.
Based on Anthony Swofford's experiences as a lance corporal in a Marines scout/sniper platoon during the first Gulf War, "Jarhead" reveals how men who spend their lives training to be fighting machines eventually go stir crazy if they don't get to use those skills on real opponents.
"Sir, I got lost on the way to college, sir," Swofford (Jake Gyllenhaal) explains all-too-truthfully to his drill instructor during boot camp.
The film begins in 1989 with the young recruit having left his girlfriend in Sacramento for a stint in the Marines. Swofford serves as narrator while he recounts the typical training rituals and indoctrination designed to harden the body and sap the spirit.
Swofford finds his comfort zone on the rifle range, though, and he is elevated to sniper and partnered with an equally disillusioned spotter (Peter Sarsgaard). Following the invasion of Kuwait, the soldiers are flown to Iraq, where they spend months in the desert finding ways to pass the time while trying not to anger their "Semper Fied" staff sergeant (Jamie Foxx).
After 175 days, the invasion begins. But the men soon realize that in this modern form of battle, the action is always one step ahead of the ground troops.
The slang term jarhead refers to the "high and tight haircut" given to the Marines. Similarly, the movie itself features rather high ambitions and tight performances.
Filmmaker Sam Mendes ("American Beauty," "Road to Perdition") has proven himself well-skilled as both an actor's director and a master of visuals. "Jarhead" is no exception. He gets terrific supporting performances from Foxx (proving his "Ray" Oscar was no fluke) and from the ever-reliable Sarsgaard ("Kinsey"). There isn't a moment onscreen where one can catch either of these guys acting. They live and breathe these roles.
Movie
Jarhead
** 1/2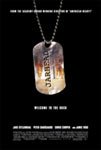 While most modern war movies stress the horror and insanity of combat, "Jarhead" focuses on the boredom of soldiers waiting to fight. But how to keep that compelling? Based on Anthony Swofford's Gulf War experiences in the Marines, the film's standout cast (led by Jake Gyllenhaal) helps energize the often familiar story.
Gyllenhaal has already displayed a respectable range in his prolific career, from Hollywood blockbuster "The Day After Tomorrow" to cult flick "Donnie Darko." The 24-year-old gives his strongest performance yet in this outing, perfectly balancing the frat-like bravado and utter cluelessness of young guys riding out their terms in the military.
The exceptional performances - and stellar cinematography of five-time Oscar nominee Roger Deakins - really help diffuse one of the more problematic areas of the screenplay by William Broyles Jr. ("Unfaithful"): It's hard to make a story compelling when the plot revolves around how bored people are. "Jarhead" tries to find humor in things like a football game played while wearing gas masks. But overall it's a rough stretch watching men go batty from the combination of inactivity and the mounting reports of infidelity from their loved ones.
What also hurts the picture is so much of it is cinematically familiar.
It's impossible to begin a movie with a rabid drill sergeant barking orders in the face of a fresh recruit and not immediately recall the same sequence from Stanley Kubrick's "Full Metal Jacket." Likewise, the film's Desert Storm setting has already been explored by the superior "Three Kings."
There's even a scene in "Jarhead" where the Marines gather for a screening of "Apocalypse Now." They go ballistic during the famed helicopter attack sequence, chanting lines and singing along with Wagner's score like they're attending "The Rocky Horror Picture Show."
Ultimately, it doesn't do the project any favors to call attention to other war films.
At the end of "Jarhead," Desert Storm survivors are enjoying a parade in honor of their return home. A Vietnam vet gets on the bus and starts personally welcoming them back. Swofford's eyes meet the older soldier, and there is both a deep connection shared and a look that implies his complete inability to relate to this man.
Swofford comments, "Every war is different, every war is the same."
Maybe that observation also applies to war movies.