More than 400 women fought in the Civil War disguised as men.
One of those brave females was Emma Edmonds, and Ric Averill was so fascinated by her story that he turned it into an award-winning play that has been optioned for a film and will have its Lawrence premiere this weekend.
"The Man She Was" follows Edmonds, who went by the name Frank Thompson, through her adventures as a soldier, nurse and even a spy during the great conflict. Her many disguises included a rebel boy, a contraband slave and an Irish washerwoman.
"I actually read about her story in a military history magazine," Averill says. "In spite of me being an aging hippie, I subscribe to all the history military magazines because the stories are full of theatrical drama."
While conducting follow-up research, Averill stumbled upon a circa 1860s copy of Edmonds' memoirs. In addition to her battlefield adventures, Edmonds got tangled in some awkward romantic situations as a result of confusion about her gender.
"Her tentmate doesn't understand why he feels this strange attraction to him (her)," Averill says. "Then she captures a rebel woman who was attempting to shoot her, brings her back to camp and forces her to work as a nurse. The two share a tent for a time, and the rebel woman fall in love with Frank (Emma)."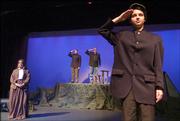 At one point, Edmonds lived in Fort Scott, where she received an honorable discharge with pension, Averill says.
"The Man She Was" got selected for the Unpublished Play Reading Competition by the American Alliance for Theatre in Education and was a semi-finalist in the Bonderman Youth Theatre Playwriting Symposium.
Sommer Brecheisen portrays Emma/Frank in the play. Also featured are guest actor Chris Waugh as General Poe, as well as City Youth Theatre players Kelly Kelin, as a kidnapped rebel nurse who falls for Frank; Patrick Patterson, who plays Frank's tentmate; and Colby Sostarich as Simpson, the intolerant antagonist.
Past Event
Saturday, November 5, 2005, 7:30 p.m. to 9:30 p.m.
Lawrence Arts Center, 940 New Hampshire St., Lawrence
10+ / $6.50 - $8.50
Rounding out the show are Caitleen Desetti, Addison Frei, Morgan Nilhas, Bethany Saylor, Anna Munzinger, Zoe Griffith and Lanae Spencer as members of an ensemble playing multiple roles.
Averill continues to be impressed by Edmonds' tenacity.
"I think it's amazing how she was able to pull it off," he says. "I wonder if people really knew she was a woman and it was a 'don't ask, don't tell' kind of thing, or if she really was that good at disguising herself."