Joyce Castle ¢ Musical Arts
Joyce Castle has received acclaim around the world for her work on the opera stage.
But she says it's nice to be appreciated at home and to receive an award from Lawrence, where she's lived since 2001.
"To be recognized by the city is very meaningful for me," she says.
Castle, a native of Baldwin and 1961 graduate of Kansas University, says she's hit her stride in Lawrence, where she is on KU's voice faculty. That wasn't the case at first, moving to Lawrence after years of living in bigger cities.
"It was pretty much shock after 20 years in New York, and eight years before that in Paris," she says. "I found it a great challenge, to tell you the truth, to start teaching. It's an important job, one that I do not take lightly."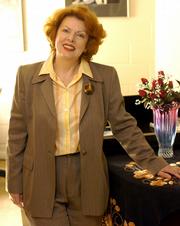 Castle's 35 years of professional operatic credits have included roles with New York City Opera, Metropolitan Opera, Lyric Opera of Chicago and San Francisco Opera, among others.
She continues a busy performance schedule. She recently performed with the Seattle Opera and has a recording of Michael Torke's "Strawberry Fields" due out this month.
"I count myself lucky to be still in demand down the road, having contracts two years out," she says. "I've been fortunate for many years. I will keep singing as long as the voice makes the music."
Steven Hedden, dean of the School of Fine Arts at KU, says Castle is a "treasure."
"Joyce continues her career where she is performing in many different opera houses and bringing all those experiences back in working with her students," Hedden says. "She is (busy), but at the same time she is there for her students and their recitals and performances. She's very much engaged with the community."
Barry Coffin ¢ Visual Arts
Don't get him wrong. Barry Coffin is a serious artist.
He was trained at the Institute of American Indian Arts in Santa Fe, N.M., mentored by top native artists like Kevin Red Star and T.C. Cannon and has shown work at top spots like the Heard Museum in Phoenix and the Smithsonian.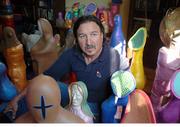 But at the end of the day, he's just gunning for smiles.
"Through my work, I'm just trying to make pieces that put some joy into people's lives," says Coffin, 58. "It always makes me feel like I'm successful when people look at my work and start smiling."
Coffin, who was born and raised in Lawrence, where his father was a coach and athletic director at Haskell Indian Nations University, focuses on the human form. Using stoneware clay, he handbuilds whimsical figures, which sometimes have horns, masks or oversized hands.
A few years ago, Coffin moved back to Lawrence from Taos, N.M. Lately, he's expanded his work in a more modern, abstract direction with a series of Plants from Other Planets that glow in shades of magenta, blue, green and gold. He recently exhibited in group shows at the Museum of Arts & Design and the Smithsonian's National Museum of the American Indian, both in New York.
In Lawrence, his ceramic and bronze sculptures can be found at Southwest and More, 727 Mass.
"I just find his work terribly exciting," says gallery owner Maria Martin, who nominated Coffin for the Phoenix Award. "He has a light-hearted, almost comical way of approaching things.
"Wherever he goes, no matter how far he goes and what he's accomplished at other shows in other parts of the country, his roots are still here, and he always comes back."
Janet Hamburg ¢ Exceptional Artistic Achievement
Janet Hamburg remembers lugging a 16mm projector up the steps of the former Lawrence Arts Center.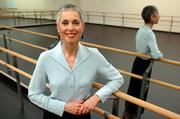 It was the early '80s, and she had come to Kansas University to teach dance. But when she discovered how little exposure Lawrencians had to dance, she started a film series that focused on the art form.
"It was about allowing people to see how dance could affect their lives and be part of their lives," Hamburg says. "Building audiences in Lawrence has been a major goal of mine."
Hamburg, who has a master's degree in dance from Mills College in Oakland, Calif., directed the KU dance program for 15 years. She also created new choreography and performed until teaching and research became her primary focus.
Her interest in dance and science drew her to Laban Movement Analysis, a system of observing, analyzing and notating all forms of human movement according to spacial pathways. She has been certified since 1982 and has used her expertise to work with professional athletes, musicians and children with sensory motor dysfunction.
Most recently, she developed an exercise video for people suffering from Parkinson's disease. Driven by her own mother's struggle with the debilitating ailment, Hamburg created movement sequences that she taught a group of Lawrence Parkinson's patients in 2002.
Ceremony
Winners of the 2005 Phoenix Awards will be honored during a ceremony at 2 p.m. today at the Lawrence Arts Center, 940 N.H. The awards recognize outstanding achievement in the arts. Awards presented at the ceremony were created by Lawrence artist Celia Smith.
She turned that class into "Motivating Moves for People with Parkinson's," a DVD produced by the national Parkinson's Disease Foundation and endorsed by Parkinson's organizations across the country.
This spring, "Motivating Moves" received the 2005 Outstanding Noncredit Program Award from the University Continuing Education Assn. Hamburg also was singled out this year for a Kemper Award for teaching excellence at KU.
"Exceptional Artistic Achievement is such a perfect match because you can find Janet's work in so many different areas," says KU Fine Arts Dean Steven Hedden, who nominated Hamburg for the Phoenix Award. "She is a tireless ambassador for the School of Fine Arts."
Hamburg, 54, has been a guest teacher at the Juilliard School of Music, the Sports Training Institute and the Laban/Bartenieff Institute, all in New York. She received the institute's first Laban Award for Creative Achievement by an artist or researcher in 2004.
"I bring the art of movement to everything that I do," Hamburg says. "I think that the arts can improve the quality of our lives. That's part of my goal as a teacher and as an artist."
Paul Hotvedt ¢ Visual Arts
Paul Hotvedt's motto is, "Anything that can be imagined can be re-imagined."
This helps to explain Hotvedt's dual roles in the Lawrence community. He is both a painter and co-founder of the "Imagination & Place" series of conferences and lectures.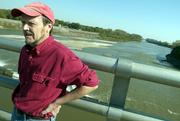 Since arriving in Lawrence in 1994, he has made more than 1,100 paintings, most of them landscapes from Douglas and Jefferson counties. His work has been displayed in Lawrence, throughout the region and around the country, as far away as Maryland and Arizona.
Hotvedt's method is one of concentration and determination. He does almost all of his paintings in one sitting, which takes anywhere from a half-hour to three hours, he says.
"I try not to do something just for the sake of being unique rather than doing something well," he says.
One unique aspect of Hotvedt's career is his work with the "Imagination & Place" project. The goal of the group is to provide a means for Lawrence residents to discuss art, music, environmentalism, city planning, science, health, the community and matters of the spirit.
"Paul seems most interested in bringing different thinking to the same table," says friend Rick Mitchell, who nominated Hotvedt for the Phoenix Award and works as gallery director at the Lawrence Arts Center.
The 49-year-old Hotvedt, who has degrees from the Tyler School of Art at Temple University and the Maryland Institute College of Art, also owns Blue Heron Typesetting, catering to high-profile clients across the country.
In his nomination, Mitchell reveals that Hotvedt's humorous self-designation - "roadside ditch painter" - is not self-depracating.
"It simply expresses the fact that Paul sees a lot in the local, the common," Mitchell writes, "and is not dependent on celebrated places to fine extraordinary beauty and meaning or to do sophisticated work as a painter."
Sue Kwak ¢ Educator in the Arts
For nearly four decades, Sue Kwak has inspired countless children with her unique method of teaching the piano.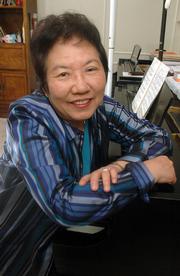 One of Kwak's first students was her daughter, who started playing violin at age 4. Kwak decided to give up her position teaching piano at Baker University in order to practice with her daughter.
"I thought to myself that the college could always find more teachers, but my daughter only has one mother," Kwak says.
The method used by Kwak is called the Suzuki method and involves cultivating an interest in music from an early age - typically around 4 or 5 - honing character development and encouraging parental involvement.
Her daughter, Sarah, who nominated Kwak, says her mother's teaching method is more than just notes on a page.
"Not only does she teach her students how to play the piano," Sarah says, "but also instills in them a love of music, a strong work ethic and a high standard of excellence which carries over into all areas of their lives."
In addition to her time at Baker, Kwak taught at Ottawa University and, in the 1990s, was invited to be the keynote speaker at a Suzuki convention in Seoul, South Korea. She routinely trains Suzuki piano teachers in Lawrence and at workshops across the country.
Kwak, 71, says her goal is not to push her students - she has about 20 - to become concert musicians, but to put their talents to use in whatever they want to accomplish.
Kwak says many of her pupils go on to become lawyers, doctors and teachers.
"Everything is for the benefit of the student," she says. "You have to love them like your own children."
Brad Levy ¢ Volunteer in the Arts
Back in the '70s, Brad Levy lived in Kansas University's Hashinger Hall, the dorm designated for students interested in the arts.
The residents staged musicals, hosted an open mic coffee house, brought in guest artists, organized a choir, and had darkrooms, rehearsal space and creative equipment at their fingertips.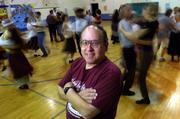 "I just reveled in that sense of community there and the encouraging, supportive atmosphere for the arts," Levy says.
And through he didn't pursue a vocation in the arts - he develops systems and software for an aeronautics company - he's made an avocation of making arts of all kinds accessible to folks in Lawrence.
He maintains Web sites for the Kaw Valley Shape Note Singers, the Lawrence Barn Dance Assn., West Side Folk and the Kansas State Fiddling & Picking Championships, among others.
"His style of doing a Web site or a newsletter or a flier is different because he goes to great lengths to explain how first-timers can join in," says Laurie Ward, a fellow Barn Dance Assn. board member who nominated Levy for the Phoenix Award. "He really has specialized in welcoming everyone to join the communities of these different groups."
And Levy doesn't hide behind the scenes. He's been dancing at barn dances in Lawrence since before the Barn Dance Assn. officially existed. He sings with the Shape Note Singers and has performed with the Lawrence Civic Choir. He also takes photos and belongs to the Lawrence Photo Alliance.
"In general, my interest has never been in making (arts) a profession," says Levy, 48. "It's been in art as a means of bringing people together in the community."
Dave Loewenstein ¢ Educator in the Arts
When a Topeka organization asked Dave Loewenstein to create a mural earlier this year, he didn't just grab a brush and get to work.
He included high school students, both in the planning and painting.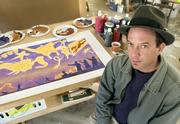 The Lawrence artist might not be a full-time teacher or art professor, but he does plenty of educating in a trial-by-fire sort of way - by involving volunteers in collaborations that end with a piece of art.
"I'm not what you'd call a traditional kind of educator," Loewenstein says. "Experience tells me that this way of teaching, at least in this area, is incredibly effective and rewarding for everyone involved."
Loewenstein's most recent project - a recreation of an Aaron Douglas mural at a Topeka park - is the latest in a long line of collaborations for the 39-year-old muralist. Other projects include the mural on Lawrence's Municipal Stadium and a set of panels made by students in New York and Moberly, Mo.
"David is an artist, but there's an educator inside of him, and a darn good one," says Marty Moreno, a Topeka High School art teacher involved with the Douglas mural project. "All of the kids got educated (about Douglas), and they were to share that with anybody who walked by. We didn't just paint and go away."
Loewenstein is currently painting a large mural in Garden City. A book on Kansas murals he co-wrote is due out next year.
Loewenstein, who also has been an artist-in-residence at schools, says it's difficult to separate his artwork from his teaching.
"I'm there more as a director or a choreographer," he says. "I'm taking these different views and different perspective and trying to fashion some artwork out of it."
Jack Riegle ¢ Performing Arts
He wouldn't admit it, but Jack Riegle is a bit of a magician.
As technical director at Lawrence Community Theatre, he brings to life productions in the most modest of spaces.
"He has to put something like the Harmonia Gardens from 'Hello, Dolly!' in that space. That's not easy to do," says Doug Wasson, who nominated Riegle for a Phoenix Award. "But he's always been able to do it."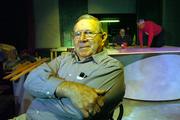 Riegle, 72, has an architecture degree from Kansas University and worked at the school as an engineer for 35 years. He's been at the theater since the day - about 20 years ago - he got bored and called to see whether there was anything he could do to help.
"They said, 'Can you be down here at 6 o'clock?'" Riegle recalls. "And I've been down here ever since."
He started as a volunteer, working in the crew and acting in shows here and there. He became part of the paid staff a few years ago.
Perhaps his most innovative contribution to the theater is a system of panels that can be folded in different combinations to create three distinct scenes. The setup provides more flexibility and speed than standard flats and was featured in Stage Directions magazine.
One of the first shows to utilize the panels also remains one of Riegle's favorites: "My Fair Lady."
"We had so much furniture in that and we had to move it so often that at the end of the show the crew got a standing ovation from the audience," Riegle says. "They worked their tails off."
With no particular background in theater, Riegle has learned to design and build sets on the job. It's an ongoing education.
"This is such a unique space, I had to learn what will work here and what won't," he says. "I said if we ever get our new theater, I would have to learn all over again how to do things."