You have 10 piping-hot meals in your back seat. You have 10 destinations and 10 nice old ladies who want to talk your ear off.
Game on.
"It's a fine line between being rude to somebody and cutting off the conversation and getting the hot meals to everyone," says Jordan Roberts, a volunteer driver with Lawrence Meals on Wheels. "Some people just want me to come in, set their food up for them and get out. Then there's people who obviously are quite chatty."
Such conversations - however brief - are what attracted Roberts to Meals on Wheels in the first place. Once or twice a week, she picks up a stack of meals at Lawrence Memorial Hospital and commences her hour-long route to aid the homebound elderly and disabled.
"I just think it's important for people our age to get in touch with older people, because they have a different perspective on things," Roberts says. "I'm lucky - I've had grandparents in my life forever and I still have two of them. But a lot of my friends don't have grandparents, so how else are they supposed to get to know older people unless you do something like this?"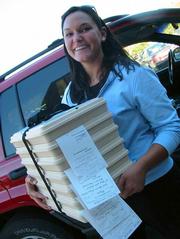 "A lot of them can't leave their homes or don't like to. It's not like you're just going to bump into them while shopping and have a conversation."
Roberts found out about Meals on Wheels because her grandparents benefited from a similar program in Oklahoma. She joined the Lawrence organization four years ago and plans to stick with it through her graduation this December. By the time she gets through Med School, she may already have a waiting list of patients.
"They're all like, 'Well, hurry up so you can sign me up,'" she says.
For the most part, Meals on Wheels is a cinch, Roberts says. Nonetheless, patience is a requisite virtue.
"Just the other day I got extremely lost - I ended up being like an hour late to all the houses," she says. "I got to everyone's house and apologized nicely and had a full conversation as usual. Everyone's pretty understanding and nice about it, really."
Persons interested in volunteering should contact Meals on Wheels at 979-1440. Typical routes take 1-2 hours and require at least a once-a-week commitment. More local volunteer opportunities at rhvc.org
In addition to weekly drivers, Meals on Wheels is currently seeking substitute drivers for the holidays and volunteer supervisors to help oversee the dispersal of meals. The program also accepts donations to support meals for low-income clients.