Tuesday, November 8, 2005
QuickView:
Good: Quirky, unique
Bad: A little less customization than the PC version
Life: Live the way you want to
Earlier this month we brought you the review of the DS incarnation of The Sims 2. Now we've had a chance to extensively play the console version and it is quiet a different experience. This Sims is a bit more like the original PC version, but it still has the main theme of progressing through a story like its handheld counterpart. This Sims is a great sequel to follow up the first console version as it's packed with more items, better visuals, and with the return of the infamous blurry shower. Welcome to a true virtual life.
The Sims 2 does offer free mode where, like the PC version, you'll be able to control all characters and have to fulfill their needs. The big feature though that you'll want to try out is the new story mode. This mode is basically free mode except that the game points you in directions on how to progress your Sim's life.
Aspirations are featured as progression through the story mode. Each individual Sim you create will have different aspirations, such as friendship, romance, knowledge, creativity, etc. This is your personality and as long as you satisfy the needs of your personality new items and destinations will be unlocked for you to explore. That is how you progress the story mode but it does get a bit repetitive in the latter parts of the story because you'll be basically be doing the same thing over and over to build your aspiration.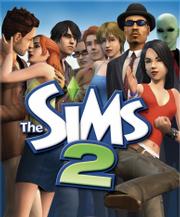 The amount of different items and locations is what makes this game worthy of progressing through. The new items aren't nearly as worthy as the new destinations just because you'll be able to experience the new activities that go along with dance clubs, special stores, recreational sites, and more. It's pretty incredible what you can get later in the game. Just think of the coolest house you could possibly have and I'll bet they have it. You'll even be able to live on the beach or on the ocean on a yacht, it's your choice.
If you are new to the series, don't be scared off by The Sims 2. This is actually a perfect game to start if you are new. The story mode does a great job to introduce you into the gameplay elements and the guiding is very helpful. Sims centers on the idea of satisfaction.
Your Sim and others will have needs of appetite, cleanliness, sleep, social satisfaction, etc. Just like in real life you'll sleep, eat, talk, go out, exercise, whatever it is that you need to do to satisfy your Sim's needs. Unlike the handheld version, you'll be able to speed up time so you'll actually have to sleep 8 hours to get a good night's rest, but it passes by in about 20 seconds.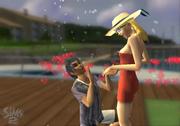 The idea of the game is to interact with others too in order to build relationship points. You'll be awarded if you interact in a positive way by growing trust and maybe even romance with your fellow Sims. There are even Sims where getting to be friends with them is impossible, just like some people you know if real life. The interaction works well because in order to keep relations good, regular talks and greetings are a must.
So the core gameplay is relatively the same, but the visuals have been overhauled to bring a more 3-D presentation. The camera moves a bit better in this version and there's just more detail to the Sims and items. It's quite a colorful game too. You'll experience all sorts of different decoration themes from romantic rooms of hearts to flashy floors at the club. The music, which I find to be an integral part of games like these, does a good job of sitting in the background providing a smooth electronic theme to ease your game playing minds. It works good because the game is meant to be played leisurely and that's how the music makes you feel.
Don't forget about the hysterical language of the Sims. One of my favorite features of the series is how the characters talk and interact. With mumbled sayings and worthless murmurs, your Sims will seamlessly understand this language of goofy gesturing.
The Sims 2 comes at us as a solid sequel and one that most Sims fans will enjoy. Even if you are new, this is the perfect game to become familiarized with the series. The game does hurt from tedious repetition, but the end reward of incredible unlockables of items, buildings, locations, and friends is worth the effort. The two-player co-op also brings additional fun as you and a friend will be able to control separate Sims and go about your daily activities. So with high scores in longevity and unlockables, you'll be enjoying this title for a while.
Graphics: B
Sound: B
First Play: B
Last Play: B+
Gameplay: B
Overall: 86% B
More like this story on Lawrence.com