Tuesday, November 8, 2005
Free State High School's sixth annual Battle of the Bands provided an opportunity for some of the most talented, quirky and high-energy high school bands in the area to showcase their talents.
The event, which was Saturday, was not really a "battle." The bands do not compete to win but competed earlier to be chosen to play at the show. Bands submit demo tapes, and the students tap the bands they like for the battle. Free State students selected six bands: Lawrence Letterday, Settle for Something, Mrs. Mr., Golden Hernia and the Magical Units, the Ultraviolets and Pocket Obsession to play at Saturday's showcase.
"Every year there are different bands and different styles. It's interesting," said David Reber, a biology teacher at Free State and event sponsor.
This year's battle provided a mix of styles, ranging from rock bands to the music of Mrs. Mr., the product of Jake Jordan, a Free State junior, and Andrew Thompson, a Free State senior, who dubbed themselves as "progressive awesome-core."
Lawrence Letterday's frontman and guitarist Ben Kressig, a freshman at West Junior High, had the opportunity to play on the same billing with his brother, Ryan Kressig, a Free State senior and member of Pocket Obsession.
The brothers cheered each other on and said they were proud of each other.
"It's great that we both get to do something we love," Ryan Kressig said.
Golden Hernia and the Magical Units, otherwise known as Charlie Naramore and Marshall Rake, both Free State seniors, presented a lively acoustic set to the crowd.
Rake and Naramore are Battle of the Bands veterans. Rake said they have played at six battles, most of them under their old band, The Shaggy-Haired Outcasts.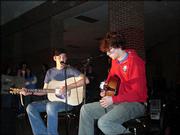 Settle for Something's frontman Joe Carr, a Free State sophomore, was "surprised but happy" that he and his bandmates had the opportunity to play in front of their peers. Settle for Something was a crowdpleaser, as they sang a song about a pirate, and guitarist Jonathon Marzette danced.
Although the crowd dwindled as the evening went on, the funk-rock sounds of Pocket Obsession got people dancing. The band, composed of four Free State seniors - Andy Foerschler, Cam Beals, Ryan Childers and Ryan Kressig - played a couple of cover songs and also brought out two "special" guests, their friends Brian McGuinness and Sterling Moody. The pair joined the band for a cover of James Brown's "Sex Machine," with Moody on trumpet and McGuinness on backup vocals.
- Tiffany Kwak is a senior at Free State High School and a member of the Journal-World Teen Board.