Wednesday, November 9, 2005
Growing up as the daughter of legendary sitar player Ravi Shankar, being the youngest artist ever nominated for a Grammy in World Music and sharing stages with the likes of Sting, Madonna and Elton John would make any musician's career for a lifetime.
Now imagine squeezing that into 24 short years.
Anoushka Shankar began learning the traditional Indian musical style when she was 8 years old.
"I grew up around this kind of music, not only from my father, but my mother also liked to organize concerts and events in London featuring Indian music," Shankar says from a hotel room in Chicago.
Classically trained in sitar and piano, Shankar still maintains her own style of music that combines the classic flavor of her father with her more modern aspirations. Her latest album, "Rise," includes both traditional Indian instruments as well as Western instruments, and it adds an electronic sound to the music. It is what is loosely referred to as "world music," though Shankar doesn't like the term.
"To be frank, it's a very broad category as far as getting nominated (for the Grammy). That makes it a huge honor because of all the music incorporated in it," she says. "But 'world music' as a definition is too vague to be worthwhile."
Along with Grammy nods, Shankar also is the first woman to be awarded a British House of Commons Shield and also the first woman to perform at the Ramakrishna Centre in Calcutta.
"Getting honors like those are not really something I can say I'm proud of," Shankar says. "They're just what other people thought I deserved. I'm proud of the things I do."
Shankar cites conducting a piece in the November 2002 "Concert for George," in memory of late Beatle George Harrison, as one of her greatest accomplishments.
Past Event
Wednesday, November 9, 2005, 7:30 p.m.
Lied Center, 1600 Stewart Drive, KU campus, Lawrence
All ages / $19 - $44
"My father wrote the music for it (a new piece called "Arpan"), but conducting 45 musicians was very challenging and very different," she says. "I'm proud whenever I rise to a challenge."
Shankar's other recent achievement is seeing songs from her new album - her "baby," as she calls it - performed in concert for the first time. She describes watching how audiences react to hearing the music as one of her proudest moments.
With a father who has been called a "musical ambassador" to the world, one might think Shankar would feel pressure to continue his legacy. Though she agrees that being able to have such an impact is great, Shankar says she plays primarily for her own pleasure. She does, however, share her father's passion for the music and her own ability to introduce it to a new generation.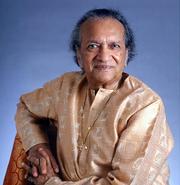 "I really believe in this music, not to make it mainstream by any means, but to expose people to it," she says. "My father is credited for originally bringing it out. I guess I'm doing that for the people who weren't around to see my father. I get a lot of college-age kids at my shows that I think can relate better to me."
In spite of having her own successful career, there are always people who will look at Anoushka only as the daughter of Ravi Shankar.
"If people are going to look at you for that, then that's what they're going to do," she says. "I found out long ago that it would be like beating my head against the wall to get them to change. I do 65, 70 concerts a year on my own, in addition to concerts with my dad. I've recorded four albums, and I've done lots of other projects on my own.
"I'm not doing anything to prove to anyone that I'm my own person or stepping out from someone else's shadow. If they'd look, they'd see me for what I've done."