Friday, November 11, 2005
A free concert tonight in Lawrence will feature a wandering Australian minstrel, a harried street saxophonist and a Hurricane Katrina refugee who plays a mean congo drum.
The 8 p.m. show at Ecumenical Christian Ministries, 1204 Oread Ave., will feature Carlos Martinez, John Anderson and Dan Kozak - three men in their fifties who have devoted their lives to music and came together last month by bizarre circumstances.
First, there's Martinez, a 50-year-old professional percussionist from New Orleans who's played with musicians including the Neville Brothers. He lost his home in Hurricane Katrina and fled town with little more than his family members and a set of congo drums.
"I canoed for almost 48 hours nonstop, man, canoeing people up and down and trying to evacuate the city, because the officials weren't doing diddly," he said.
Martinez relocated to Topeka with his family after hearing there was a home there for him. There, a local journalist hooked him up with Kozak, a well-known local saxophonist who started playing at Seventh and Massachusetts Streets two years ago after suffering a series of physical, financial and emotional problems. The two hit it off right away.
Martinez said of the 53-year-old Kozak, "He can play, and he knows a lot of musicians."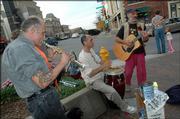 Kozak was playing "When the Saints Go Marching In" on the street a few weeks ago in Lawrence when Anderson - a 57-year-old multi-instrumentalist from Australia who just happens to be passing through town - stopped to listen.
Kozak said Anderson got right in his face, and he said he could tell by the look in Anderson's eye that the two were going to be friends.
"When you do music as a spiritual medium, you connect with other people without having to talk about it," Kozak said. "We've decided that we must be brothers from some ancient mother."
Anderson plays instruments including clarinet, guitar and ukulele and touts his performances as "Folk-Yoga Fusion." He invites people - anyone - to come on stage to play with him as part of what he calls "The Elastic Band."
"I reckon music's up for grabs," Anderson said. "Anybody's a musician in my book."
Kozak then introduced Anderson to Martinez, and the three decided to do the concert at the ECM. The three have played together only once, and they've made it a point not to rehearse.
"You end up getting really stiff on it," Martinez said.