Monday, November 14, 2005
Reach's local reach had been rapidly growing thanks to a busy calendar of Lawrence and KC shows. Now a national audience may be within the KC-based rapper's grasp, thanks to the Scion NextUp emcee competition. Winning the national competition earns him a phat paycheck and a music video. In some ways, it's an unlikely pairing: a humble, introspective lyricist being co-opted for the purpose of selling aftermarket-friendly tuners. But if there's one thing Reach has proven, no audience is outside his grasp.
lawrence.com: What's filling your days with happiness?
Winning the Toyota Scion competition ... That's pretty big. That's where it is the last couple of days. Still trying to process that information. That and new music and just a ton of shows.
What does that mean, winning this competition?
It's a talent search they do every year looking for unsigned rap acts. This year 2000 people submitted their songs. I didn't even expect to be in the Top 10 and then I won. From here, we're going to shoot a video and there's a cash prize involved. And also I'll perform at some of their live Scion events across the country.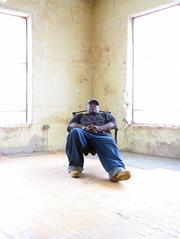 If I were to enter one of these things I would think, 'Why would I win? There's so many people.' I guess that's kind of a negative attitude. I'm sure you didn't bring that attitude to the table.
To be real honest about it, I had forgotten that I even submitted something. When he called me and told me I was a finalist I wasn't going to answer the phone ... It came back real quick.
Thought maybe he was trying to hustle you?
Yeah, I'm still trying to make sure somebody's not running this elaborate scam on me.
There's a large sum of money here, isn't there?
Yeah, it's like five grand.
Is there a catch? Are you doing something specific with this money as they've dictated?
No, they really don't have any specifications for how I spend it. Definitely the vast majority of it will be reinvested into the music.
Do you drive a Scion?
Don't have a Scion. But I love the XB ...Maybe they'll let me ride around in it.
So they're going to help you make a video?
They're actually going to shoot a video. They're going to come here to Kansas City and we're drawing up treatments for it and everything.
Is their any plan for what will happen with this video once it's done?
It's still early in that process of brainstorming. I have a feeling it's going to be a community type of thing; a real thick scene type thing. So you're going to see a lot of the cats you know running around ... anything that represents who I am and where I'm from.
Album Mp3s

Joys, Disappointments, and the In-Between
Did you ever picture yourself making a music video?
Two or three years ago I would say no. At this point, I think I'm ready for it. I still don't know how it's all going to play out.
Think you'll be able to stare into the camera?
You gotta do that. If you're a rapper you gotta stare into the camera and point.
You also gotta put a fish-eye lens on the camera and wave your arms around.
Yeah. Hopefully I can rent some jewelry and some houses that I really don't own or live in.
Put some gold caps on those braces.
Yep. Do it all.