Wednesday, November 16, 2005
Through 15 years of performing with the Paul Taylor Dance Company in New York, Patrick Corbin has noticed something about audiences:
They're getting older.
"We need to start getting people my age in and start doing things that they can relate to," says Corbin, 40. "I feel it's important to relate to a contemporary audience."
That's precisely what he's trying to do with "Loop Dance," a hip new work he created for the Kansas University Dance Company. He taught the piece to 13 dancers during a weeklong residency at KU in September.
He started with the music, a series of percussion loops and samples of popular dance and techno beats composed by Marsha Groethe, his pseudonymous counterpart. From there, he built a visual vocabulary based on the spiral and its influence on the classical ballet tendu (a stretch of the foot outward along the floor). He asked the dancers - who will be dressed in cargo pants, camisoles and T-shirts - to improvise by imagining three-dimensional tubular structures in the air and then trying to travel through them with different body parts. The eight-minute dance eventually loops back to where it begins, with a twist.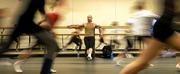 "Loop Dance" will be the finale of the company's fall concerts Thursday and Friday at the Lied Center. It's the product of Corbin's first-ever residency, and he says he enjoyed working with the student dancers.
"They were wonderful," he says. "They were totally dedicated and very smart, good dancers."
Inspired by a master
In his effort to connect new audiences to dance, Corbin started his own company, called CorbinDances, in 2003. The first official auditions were Tuesday in New York.
And Corbin's doing what he can to irk his mentor, Paul Taylor. But it's all in good fun.
"I'm trying to do everything I know he really hates because I don't want to be seen as a Taylor rip-off," Corbin says. "Although if I could have one iota of his success as a choreographer, it would be amazing.
"He knows that not only am I using it as a tool to find my own thing but it's also just fun to try to break all of the rules that I lived in for the past 15 years."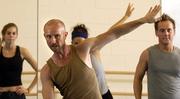 Corbin left the company last season after a distinguished career that included being featured in five PBS "Great Performances" and the documentary "Dancemaker." He received a Bessie Award in 2001 for sustained achievement in dance.
Prior to his celebrated stint at Paul Taylor, the Maryland native danced with the Kansas City Ballet, American Ballet Theatre II and the Joffrey Ballet.
But it's Taylor whose influence will be lasting.
"My movements, what's coming out of my body will always be influenced by Paul," he says. "The shapes that I make are just inherently in my body so strongly. But also the formal aspects of choreography, how he moves people around the stage, inspires me greatly."
Full circle
Also on the University Dance Company program are new works by KU faculty and one graduating senior. Among them are two contrasting pieces by Patrick Suzeau.
His "Badinage" skews a classical ballet for 14 dancers through a contemporary lens, employing a modern approach to time and space. The dance is choreographed to Baroque music by Torelli.
"It's a purely abstract piece," Suzeau says, "but it's really about the joy of dancing."
His other work, "Celestial Players," takes a cue from the sculpted nature spirits at the Indian temples of Khajuraho. The artists who created them - and sculptors like Michelangelo, for that matter - imbued their figured with a sense of physicality that depicts tensions that aren't necessarily realistic, Suzeau says.
"You have the bodies that are twisted in a way that anatomically does not make sense, but kinesthetically makes tremendous sense and aesthetically I find exquisite," he says. "What I'm trying to do is create the essence of those physical distortions."
In concert
What: University Dance Company fall concerts When: 7:30 p.m. Thursday and Friday Where: Lied Center, 1600 Stewart Drive Tickets: Adults, $10; students and seniors, $7 Ticket info: 864-2787
The dance is divided into two sections, with Suzeau performing a solo in the first segment and three women dancing in the second.
Jerel Hilding's "Carousel Waltz" begins the show with images of whirling carousels and their colorful inhabitants. Willie Lenoir's "Loreley's Ancient Sojourn" follows a young woman through two different encounters with a man and three women.
In Joan Stone's "Sparks to Ashes," a commentary on our tumultuous times, nine dancers run, leap, fall and march to a score of crashing chords, pauses and oompahs. Student Allison Kaut's "Fallen" examines the way people break away from each other and themselves.
And the evening comes full circle with Corbin's "Loop Dance."
"Hopefully," says Corbin, "it's sort of a fun journey for the audience and the dancers to advance through."