Thursday, November 17, 2005
Four men and four women comprised the Xhakum tribe as day 25 began.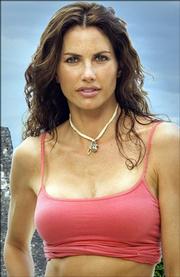 As such, the reward challenge was divided evenly among the sexes, with teams of two racing through an obstacle course in a mud pit.
Jayhawk Danni Boatwright's group of Stephenie, Judd and Gary prevailed, putting them in the position for what host Jeff Probst dubbed "the biggest reward we've had so far."
The muddy four were taken by helicopter to a private home, where they received a much-needed shower, gourmet meal and bed. While enjoying the comfort, Danni and Gary strategized a way to save themselves (they were outnumbered six to two based on previous tribal lines).
The group also earned the opportunity to watch videotapes from home.
Danni's mom, Tonganoxie resident Vickie Cackler, sent a greeting to her daughter -- as did the Survivor's pet dogs.
"This is the best day of my life," Danni said.
Meanwhile back at camp, the odd behavior of water ski instructor Jamie began to wear on his campmates' nerves.
"You can go insane out here in the jungle," he confessed.
At an immunity challenge involving a rope maze, Danni was among the last to finish, leaving Rafe the lone untouchable at the night's tribal council.
The bonds established by Danni's quartet at the reward excursion clearly paid off. Jamie was voted off by his former alliance.
"Blindsided!," Jamie exclaimed on his way out. "Now that's the way you play the game."