Saturday, November 19, 2005
Swirls of color, sound and movement marked the University Dance Company's fall concerts Thursday and Friday at the Lied Center, featuring choreography by Kansas University faculty, a guest choreographer and a graduating senior. The troupe delighted the audience with an evening of seven original works in a variety of choreographic styles.
Opening the program was choreographer Jerel Hilding's beautiful "Carousel." To the familiar waltzing "Carousel Overture" by Richard Rodgers, dancers twirled about the stage enchanting a young man who falls under the spell of the carousel figures.
Although Hilding's was a fairly traditional dance, the next work, "Celestial Players," turned an entirely different direction. Choreographer Patrick Suzeau, inspired by the sculptures of nature spirits in Indian temples at Khajuraho, performed accompanied by "Mahima," by Debashish Bhattacharya and Bob Brozman. The dance was divided into two sections, with Suzeau performing solo in the first part and Morgan Fogarty, Allison Kaut and Meggi Sweeney in the second, twisting and turning their bodies, sometimes in recognizable shapes of birds or beasts, often in unrecognizable but beautiful physical forms.
Kaut, who will graduate in December with a bachelor's in dance, also performed with a team of women in her original composition, "Fallen," which she choreographed for her senior project using James Horner's music from the soundtrack of "Troy."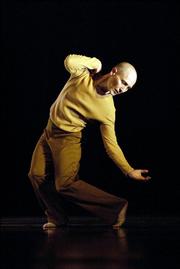 A crowd favorite was Willie Lenoir's "Loreley's Ancient Sojourn," a sprightly piece about a young woman who meets a strange young man and a group of three women, and set to faintly Celtic-sounding music by Ritchie Blackmore.
Joan Stone's "Sparks to Ashes" opened the second half of the program with a puzzling dance set to "Frescoes: The War in Heaven," by William Bolcom. As a commentary on contemporary life and its confusion, the dancers marched in time, fell, raced across the stage, staggereed and gyrated in response to the music's insistent and often violent chords.
In stark contrast, Suzeau's "Badinage" offered a sly interpretation of the classical ballet, with 14 dancers performing over Giuseppe Torelli's Concerto Grosso in A Minor. The dance appeared to follow traditional lines, but still reveled in contemporary abstraction.
The evening's finale featured guest choreographer Patrick Corbin's "Loop Dance." Suggesting that modern choreographers must strive to get younger people interested in dance, Corbin used his residency at KU in September to teach the new work to the University Dance Company. Composed in part by the improvisation of the dancers and guided by Corbin's own techno beat music, "Loop Dance" was an eclectic mix of undulating bodies creating and responding to imaginary shapes in the air, spiraling into greater and greater complexity until they finally fell and returned to where they began.
The satisfying evening's program clearly intended to reveal the company's desire not only to showcase the talent of its performers, but also to appeal to a range of contemporary audiences.
- Sarah Young is a lecturer in Kansas University's English department. She can be reached at youngsl@ku.edu.
More like this story on Lawrence.com