Saturday, November 19, 2005
A poor young man from the rural south, haunted by the untimely death of his brother, parlays his unique worldview into a legendary music career and fights the specter of drug addiction on the road while his family grows ever distant at home. Sounds like last year's Ray Charles biopic featuring a dead-on performance by Jamie Foxx, right?
Wrong. Try this weekend's Johnny Cash biopic featuring a dead-on performance by Joaquin Phoenix.
Add in a forbidden romance born out of the respect and unconditional love that comes from spending years together making music onstage. Add in Reese Witherspoon's magnetic turn as Cash's soulmate June Carter, and we've got ourselves a different and unique story altogether.
We saw half of this movie last year when it was called "Ray" - in "Walk the Line," the relationship between Cash and Carter is enough to carry the film. But trying to sum up someone's life in two hours is an impossible feat, so they shouldn't have tried. "Ray" had the same lofty goals and, despite Foxx's charisma, the movie was too long, a tad unfocused, and dragged towards the end. Now, despite Phoenix and Witherspoon, "Walk the Line" suffers from the same dilemma. That, and bad timing.
Movie
Walk the Line
** 1/2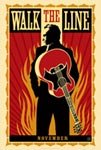 The Man in Black may be gone, but his shadow and his sound live on in "Walk the Line," a thoroughly entertaining Johnny Cash film biography. Joaquin Phoenix gives a soulful and musically dexterous performance as Cash, and Reese Witherspoon brings bubbly charm and earthy warmth to June Carter, the great love of Cash's life.
One theme that works well is the pounding backbeat that opens the movie at Folsom Prison. It is the same beat that echoes from the inside of Memphis' Sun Studios one day when Johnny peers in an open back door. In one of the film's all-too-rare moments of insight into Cash's musical contributions, producer Sam Phillips convinces Cash that what he, as an artist, has to offer is not more of the same gospel music, but his honesty, his sincerity and his experience.
Soon he is traveling the country, cheating on his wife, and missing his kids growing up. The backdrop is colorful (Cash plays shows with Elvis Presley, Jerry Lee Lewis, Roy Orbison and Carl Perkins), but the scenes are too familiar, and director James Mangold, trying to pack in as many small niceties at once, cannot wring any newness of out of them. The other rock n' roll superstars are set dressing, and distracting ones at that - since their time onscreen is so small, the actors playing them never get the chance to grow beyond Vegas impersonators.
The real treat of "Walk the Line" is watching Witherspoon and Phoenix embody these icons of country music and make them into real characters. With the Carter Family, June grew up in the musical and religious spotlight, and her divorces made her the subject of scorn for many gospel fans. Her public face is all smiles, but her few unguarded moments reveal a deeper pain. Exploring this further would have been a better idea than showcasing rote scenes of Cash's first wife complaining that he is gone all the time.
As the attraction between the couple grows, Johnny delights in putting June on the spot during their stage shows. At one show early in the film, Cash forces June to sing a duet about getting married just a little too soon after her recent divorce. The scenes of them performing in front of a live audience are charged with the possibility of unexpected bursts of honesty from Johnny. The stage means something different to both of them. For her, it's a job where she has to entertain. For him, it's a window to who he is.
June's guarded nature is a defense mechanism, while her air of professionalism comes off as motherly on tour. Although Cash definitely needed a mother at times, Phoenix and Witherspoon effortlessly project the respect that each had for the other. The inevitability of their romance is felt from their first scene together, and when they are not together, the movie suffers.
Hollywood needs to retool and invigorate the biopic. Rather than trying to tell the whole life story, find one element that's interesting and get as close to it as you can. Just because it's based on a real life doesn't mean it has to be formulaic. Until then, I'll cross my fingers that the actors playing these parts will be as fantastic as Phoenix and Witherspoon, and, despite the lame script, will give me a real feeling of who these people were.
Note: Some people are pissed off that Phoenix does all the singing. Get over yourselves. He does a fine job. Plus, how jarring would it be for a performer who spoke half his lyrics anyway to suddenly change speaking voices from the one we've heard throughout the entire film? The answer: ridiculously so. If you want to hear Cash sing, buy a record. This is a movie.
More like this story on Lawrence.com