Sunday, November 20, 2005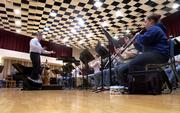 Bands are an integral part of colleges, providing the soundtrack to basketball and football games as well as programs purely for the enjoyment of listening.
This afternoon, four of Kansas University's top bands get off the court and out of the classroom to share their talents with the Lawrence community during the first-ever Band Spectacular!
John Lynch, director of bands, says the concert will offer something for everyone, with pieces ranging from pop hits to classical favorites. Groups were auditioned for the concert and selected to represent the spectrum of KU's band program. Featured ensembles include the Men's Basketball Band, Jazz Ensemble I, the Marching Jayhawks and the school's top concert band, the KU Wind Ensemble.
The Wind Ensemble will play pieces from its China tour that have not yet been heard in Lawrence, and the Men's Basketball Band will perform songs that will be part of its 2005-'06 season.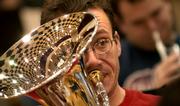 Special guest artist for the concert is Steve Houghton, an internationally acclaimed jazz drummer and percussionist from Los Angeles. Houghton is also a professor at the University of Indiana, where he teaches drumset and rhythm master classes. At the Band Spectacular! he will perform a piece written especially for him called "It Takes A Village," which showcases his versatility as a percussionist.
Proceeds from the concert go to band scholarship funds. One of the main goals of the show is to recruit new students.
Amy Knopps, head graduate teaching assistant and one of the concert organizers, has sent letters to KU alumni who might not have seen the band recently, as well as area high school bands who want to see what KU has to offer.
Past Event
Sunday, November 20, 2005, 4 p.m.
Lied Center, 1600 Stewart Drive, KU campus, Lawrence
All ages / $5 - $7
Knopps calls the concert "our sample platter."
"You get a taste of everything the KU band program has going on right now," she says.
Organizers have made an effort to produce a show that the whole family will find entertaining, Lynch says. That includes a special guest for the kids, though Lynch wouldn't give details. He urges parents to bring their cameras."
"We just hope that everyone can come over to KU on a Sunday afternoon," Knopps says. "We're hoping for 500 people at the least, but what we really want is to pack the house at the Lied Center."