Monday, November 21, 2005
Kevin Lucey knew Sunday afternoon would be emotional for him as he sat in a small Kansas University theater in Murphy Hall.
But it turned out to be a little more emotional than he was expecting.
"It was much more powerful," Lucey said, referring to the performance of "An Army of One," a play written by 2005 KU graduate Zacory Boatright.
In July 2003, Lucey's son, Marine Reservist Jeffrey Lucey, returned home to Belcherton, Mass., suffering from post-traumatic stress disorder after serving in Iraq. He ultimately committed suicide by hanging himself.
Boatright's play is about a veteran who has returned from Iraq and how he copes with post-traumatic stress. Boatright's character also decides to hang himself but in the end pulls back from the brink and is saved.
Kevin Lucey and his family have traveled across the country this past year advocating for victims of post-traumatic stress and trying to raise public awareness. He recently learned over the Internet about Boatright's play, which is a co-production by the English Alternative Theatre and University Theatre. He wanted to come to KU to see it.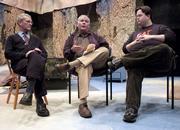 The play was performed in Murphy Hall's William Inge Memorial Theatre.
"I'm happy that we came here," Lucey said. "The cast was fantastic."
After the play, Kevin Lucey participated in a panel discussion about the play and his experiences with his son's disorder before about 50 people, including cast members. Others taking part in the discussion were Allan Hanson, professor of anthropology and a founding member of the Lawrence Coalition for Peace and Justice; Chuck Berg, chairman of the KU Department of Theatre and Film; and Boatright. Also present was Paul Stephen Zim, a KU professor of English who had Boatright as a student when the play was written.
Lucey said the play did a good job of portraying the problems of post-traumatic stress. "The intensity - it is there," he said.
"We had been through hell with Jeff the last three months of his life," he said. "His own hell, well, it was indescribable."
Boatright said he had been working on a script when he read a news magazine story about Jeffrey Lucey.
"This play is supposed to make a statement," Boatright said. "What we have to own is the people who come home and are suffering the effects of PTSD and ultimately we need to take responsibility for these individuals."
Boatright said he was humbled by the response to the play and Lucey's interest in it.
Kevin Lucey and Boatright criticized the federal government for continuously cutting funding to the Department of Veterans Affairs, which is supposed to assist veterans suffering from post-traumatic stress as well as other physical and mental problems.
"An Army of One" has been entered in the Kennedy Center American College Theatre Festival and is eligible for a number of playwriting competitions.