Thursday, November 24, 2005
"That was some crazy shenanigans," Danni Boatwright said of night 27's tribal council vote.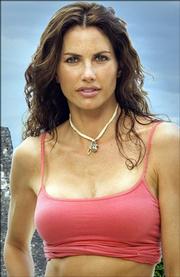 The former Jayhawk and current Tonganoxie resident found herself in the final seven as the competition for the $1 million prize narrowed further.
The next day's reward challenge involved players answering questions about Guatemala and Mayan culture, ranging from geography to crops to decapitations.
Those choosing correctly got to systematically eliminate their rivals by smashing corn-filled pots that matched each of the seven contestants' names.
Danni got all her answers right but was knocked out by the five-team alliance of Judd, Stephenie, Rafe, Lydia and Cindy.
Winner Cindy chose Rafe to join her on a food and massage excursion to a "spa-like environment." Rafe dubbed the experience "the best day ever."
But back at camp, Stephenie turned on Lydia for smashing her pot and declared her out of the alliance of former Nakum tribe members. Lydia lashed back by explaining she was hungry, and was tired of seeing Stephenie win all the food rewards.
At the immunity challenge, host Jeff Probst told the contestants a story about Mayan folklore, compelling them to race around to various stations and complete puzzles based on the knowledge.
Rafe narrowly beat Gary, sending the ex-NFL quarterback scrambling for ways to recruit others to his cause.
But at tribal council, Gary received all the other members' votes -- including that of past ally Danni -- which led him to a season-ending seat on the bench.
After 30 days in the jungle, Danni became the soul survivor of the former Yaxha tribe.