Saturday, November 26, 2005
A foundation dedicated to promoting the works of John Neihardt has selected Lawrence artist Jim Brothers to create a sculpture of the author and of Black Elk, an Oglala holy man and subject of Neihardt's best-selling "Black Elk Speaks."
"I hope they can raise the money," Brothers said. "I'm anxious to do it."
The project - sculptures depicting Black Elk in prayer and his biographer, Neihardt, sitting on a nearby rock, taking notes - is expected to cost $175,000.
"It's our understanding they've reached the halfway point of their fundraising goal," said Kathy Correll, manager at Jim Brothers Sculpture Studio.
Based in Bancroft, Neb., the John G. Neihardt Foundation will host a fundraising concert Sunday at the Bancroft Community Building, featuring the Wayne State College Madrigal Singers.
"We also have a quilt that will be raffled off on Dec. 16, and we have an anonymous donor who has agreed to match donations," said Nancy Gillis, museum director at the foundation's Neihardt Center in Bancroft.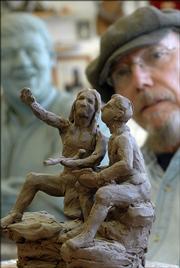 "Most people who visit the center have never met John Neihardt or Black Elk," Gillis said. "So it's important for there to be an image of these two great men together." Black Elk died in 1950, Neihardt in 1973.
The collaborative biography, "Black Elk Speaks," provided a rare, retrospective glimpse at the social and spiritual lives of the Plains Indian at a time of radical change.
"Black Elk Speaks" has been translated into 20 languages and has been continuously in print since 1961.
Brothers' works include 10 larger than life-size figures at the National D-Day Memorial in Bedford, Va., and a life-size figure of Mark Twain at the Hartford Public Library in Hartford, Conn.
Plans call for installing a Brothers rendering of Gen. Dwight D. Eisenhower near the National Mall in Washington, D.C., next year.