Monday, November 28, 2005
Becoming a parent does not necessitate becoming lame, as well. People with kids still like to, you know, do stuff. But it's not always easy to find children-friendly activities amid a social scene geared toward young, single boozehounds.
Lawrence resident Liz Weslander, the mother of 4-year-old twin daughters, aims to change that with a new website geared toward area parents. After months of preparations, www.freestatefamily.com launched last week. Its content includes blogs, an events calendar, suggested family destinations, profiles of area parents, recipes, cheap classifieds and even a "Free State Family Marketplace" to sell local wares.
Weslander says Lawrence has an acute need for such services, particularly the family-focused events calendar.
"I think there are a variety of types of parents here, maybe more diverse than in some areas. A lot of young parents living a hip lifestyle," Weslander says. "They're still engaged in their own lives and their own artistic endeavors. They like to go out to shows on the weekends."
It's not that there's nothing for families to do in town, Weslander says - it's just that no one has sorted them all out. Her site goes beyond the events listings of area publications like Mother and Child Reunion and Kids Calendar to include everything from children eating free at Yello Sub on Tuesdays to Wonderscope Children's Museum near Kansas City.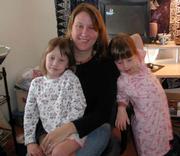 "There's been a lot of times when I wake up on a Sunday, want to do something with my family and think, 'God, I wish someone had everything listed in one place,'" she says. "That's something I've craved many times."
The seed for the new site was Weslander's lawrence.com blog, "Got Kids?" but she felt it was important to establish an independent space for parents. Weslander, who tosses around a few curse words in her current "Gin and Juice Boxes" blog, points out that the site is for parents, not for their kids. But she also separates freestatefamily.com from the bevy of hyper-cool parenting websites riding the "mama" phenomenon, such as hipmama.com, austinmama.com, phillymama.com, et al.
Short of creating your own means of bettering our community (a la Liz Weslander), you may find existing volunteer opportunities through the Roger Hill Volunteer Center.
"With those sites, it's like, 'We're young, crazy moms with tattoos!' Some of them are single moms, some teen moms. And that's great," Weslander says. "But sometimes I feel like I'm not cool enough for that culture."
With the objective of creating broad appeal among parents, Weslander hopes that Lawrence moms and dads, with their diverse backgrounds and approaches to parenting, will come onboard.
"I can create this site and comment on things myself, but it's only as successful as people in the community make it," she says. "I don't want it to be like, 'Here's me and my writing!' I do think there are a lot of interesting parents out there, and I hope we can learn from each other."