Monday, November 28, 2005
On Friday, a cast of Lawrence musicians will perform at The Granada to benefit The Lawrence Community Nursery School. Matt Pryor (formerly of The Get Up Kids) will do double-duty, performing an early set with his children's band Terrible Twos and a late set with his grown-up band The New Amsterdams. Lawrence singer/songwriter Julia Peterson will also join the late bill with her seven-piece band The Breaks.
lawrence.com: Tell us a little bit about this event.
Matt: It's a benefit concert for the Lawrence Community Nursery School, which is a co-op elementary school here in beautiful Lawrence. My daughter goes there and Julia's drummer's sons go there. Julia doesn't have any kids.
(To Julia) Are you thinking about it?
Julia: Eventually. No time soon. Let's make a couple more records. Then kids.
So the show is on Dec. 2?
Matt: It's actually two shows. There's an early show from 5 to 7 p.m. and we're encouraging people to bring their children to it. It's The Midday Ramblers, The Prairie Acre and my children's music outlet called Terrible Twos. I think there's also going to be a bake sale kind of thing. But the bar will be open so the parents can still come and have a good time in a safe environment for their kids to play, and they can have a couple beers. The parents - not the kids.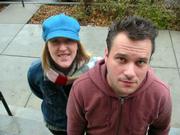 They can have sugar shots.
Matt: Right. And then there's a proper show that starts at 8 p.m. and it's The New Amsterdams, The Yards and Julia Peterson and the Breaks.
So what brought you guys to this particular cause?
Matt: Well, my daughter goes to school there and the parents are very involved in the fundraising. They originally wanted me and my wife to put together a 5K run. I was just like, 'Well, you know, I could put together a show; I'm much better at that than a 5K.' I've never run in a 5K in my life.
What do you like about LCNS as pertains to your kids?
Matt: It's very hands-on ... They really encourage the parents to be involved with the whole process, which is good and bad because it takes up a lot of your time, too. On the one hand, dropping them off would be nice; but on the other hand, being involved is nice, too.
So, Matt, you have this record called "Terrible Twos" and it's indeed a kids' record as rumored?
Matt: Well, we say 'songs for children.' The idea is to make music that kids would like as much as adults would like. Because Barney and The Wiggles and stuff like that is just incredibly annoying crap. So I'm just trying to write little folky pop songs but have them be about dinosaurs and bugs and stuff like that. We'll say 'kids record' - that's fine. I just kind of want to disassociate myself. I don't want to be a 'kids' artist.'
Past Event
Friday, December 2, 2005, 5 p.m. to 11 p.m.
Granada, 1020 Mass., Lawrence
All ages / Free - $15
Julia: You don't wear a costume or anything when you play.
Matt: No, not at all. I mean, definitely you have to engage the kids. I'm figuring it out as I go along. It's different. There's the kind of rock-band way, like: 'Alright, how's everybody doing tonight!?' Kids just go 'eh.' So you gotta be like, 'Alright, who likes owls!?'
Julia: It's hard enough to get 25-year-olds to pay attention when you're playing in a bar.
Matt: Well, it's actually easier to get the kids to pay attention, as long as you know what to tell them. 'Cause the 25-year-olds aren't going to pay attention no matter what.
The 5-year-olds may be less distracted by members of the opposite sex at this point.
Matt: They're just trying to annoy them and pulling their hair and stuff like that.
So what do your kids think of the record?
Matt: Actually, they like it a lot. An unforeseen casualty with this is that when you have children and they like a record you listen to that record a lot. And when you record a record you listen to that record a lot, too. So now I'm so incredibly sick of the Twos record, and now my daughter wants to listen to it every time we're in the car.