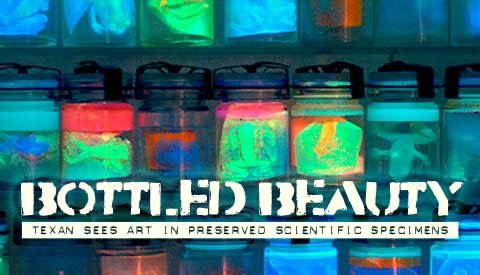 In a fourth-floor room of the Kansas University Natural History Museum, in a space the public doesn't normally get to see, hides a menagerie of lifeless amphibians.
Thousands of jars tower to the ceiling, each filled with animals collected from around the world.
Gray frogs float lifelessly in alcohol solutions, their once-vivid colors sucked out by years of preservation. Toads stare out from behind glass, as if to remind you they once lived active lives in locales more exotic than a storage room in Kansas. Salamanders are stuffed dozens to a jar, making it hard to tell where one animal ends and another begins.
Some might find the amphibian graveyard grotesque, or simply intriguing.
In a word, Tracy Hicks finds it artistic.
For more than a decade, the Dallas artist has been finding inspiration in the animals preserved by science. He mixes art, science and a message of conservation in colorful installation pieces that use casts of animals from natural history museums.
Though he's worked for years with the KU amphibian collection - one of the largest in the country at 298,000 specimens - he's just now completed his first installation on the KU campus.
Recurring event
Hall Center for the Humanities, 900 Sunnyside Avenue, KU campus, Lawrence
All ages / Free
"Two Cultures: Collection" opened Saturday on the second floor of the Hall Center for the Humanities. It includes casts of extinct or endangered Latin American frogs and toads from the KU collection, and Asian frogs and toads from the collection at the Field Museum of Natural History in Chicago.
"You can appreciate it at any level," says John Simmons, a collections manager at the KU Natural History Museum who is helping organize the installation.
"You can see it as art. You can see it as a new use of scientific specimens. You can see it as a conservation plea. I hope people come away with mixed emotions because there are mixed messages."
Inside the exhibit
The exhibition space - actually an unfinished office - holds a strikingly colorful array of 1,300 collection jars, many of them around 100 years old and from the American Museum of Natural History in New York. They're placed on wooden shelves with canvas backs, a process that took Hicks more than a week of working long hours to complete.
Audio from Artist Tracy Hicks
Inside the jars are urethane casts of rare frogs and toads, carefully replicated from specimens in Lawrence and Chicago using a process Hicks designed not to harm the preserved animals.
The initial replica is made of an alginate mold, similar to what a dentist would use to mold teeth. Each goes through three additional casting steps to create the finished product.
The casts then are dyed vivid colors, with most in an alcohol-water solution that also contains brightly colored dyes. The colors are meant to pay homage not only to the colors of the amphibians in real life but also to the cultures of Latin America and Asia, where they originated.
Exhibit visitors can turn on black lights, or use black-light flashlights, to reveal phosphorescent qualities in the casts or turn the lights off to make them glow in the dark.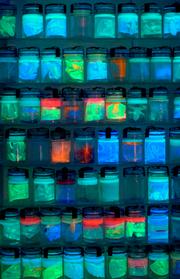 "I want to create a sense of mystery with it," Hicks says. "I want people to feel their own gut reaction and take that sense of mystery and go someplace with it. I can't define what that could be. I can start it and give them the substance for what I hope will be a very good direction."
Shift in focus
Hicks' fascination with frogs and toads was sparked in 1994, when he accompanied a research team to Guatemala. The scientists were alarmed at the rate of extinction of species in the area they were studying.
It introduced him both to the concerns about mass extinctions and the beauty of the frogs and toads. Hicks, who initially was trained as a goldsmith, decided to switch from commercial photography to his unique blend of installation art, science and advocacy.
He also started breeding frogs that are either extinct in the wild or nearly extinct as a way to help pay for his art. He now has 37 species.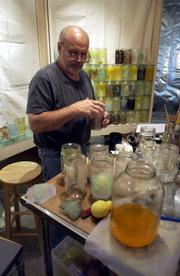 "Making art is not all that difficult," Hicks says. "Making something that's beautiful and attractive is not the difficult part. The difficult part is tying the concept in, making it go to another level. That really fascinates me."
The KU installation, which was funded through a $46,000 grant from the Museum Loan Network, is one of the largest he has undertaken. He also has had large exhibitions at the Dallas Museum of Art and at Project Row Houses, an art and cultural center in Houston.
"Science is important in his work, and he's interested in the natural world, but this takes it really a step further with the way he uses light," says Wendy Vertacnik, a Lawrence High School art teacher who plans to take a class field trip to KU for the installation this week. "It's really exciting. I think it's more contemporary."
Worlds collide
Hicks, 58, takes pride in balancing himself between two worlds often viewed as opposites.
"One of Tracy's big issues is the intersection of art and science," Simmons says. "In that sense, we really want to see what people get out of it. We hope what people get out of it is why museums collect animals and preserve them, and that there's a beauty about it."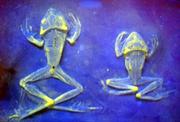 Hicks says the exhibition is meant to give visitors an idea of what preserved animal collections are like.
"Most people will never see the vault at a natural history museum," he says. "It's an awe-inspiring experience. You walk into that vault and see all those animals dead - preserved - and if you don't know what it's about, it's sort of revolting. Then when you find out this is the only way we would know about the animals that are gone, then it becomes extremely important that we have a way of measuring that change."
Higher calling
While in some ways the frogs and toads are meant to represent endangered animals in general, the amphibians do have a special place in Hicks' heart.
He notes, for instance, that scientists have now found that some frogs communicate using UV light. That's part of the reason his casts glow in the dark.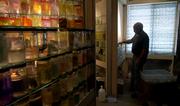 "It's not that I'm trying to get ahead of science at all," he says. "I'm just an artist interpreting from an artist's point of view. But it fascinates me that they have ways of communicating that we don't have the ability to understand."
Scientists believe the chytrid fungus, which has been found throughout the world, is responsible for many of the frogs' extinctions, though other factors such as global warming and agricultural chemicals also may be culprits.
Hicks worries that these extinctions may cause major ecological shifts. He points to the Appalachian region, which has a particularly high biomass proportion of frogs and toads. If they die, the mosquito population could go unchecked.
"The whole eastern seaboard ecology will change," he said. "It will probably end up killing lots of people because mosquitos and the insect population will just go berserk."
Hicks hopes to get that point across with his KU exhibition, using species that have disappeared or may not be around much longer.
But don't expect a scientific sermon when you go see his art. This is, after all, an art project.
"We're not hitting them over the head in the exhibit," Simmons says. "We'll have handouts available with links to Web sites if they want to learn more. The purpose of the exhibit is to show the beauty of the specimens."