Chris Cullinan is a grad student, a teacher, a researcher, a practicum participant and a 24-year-old.
Remarkably, he's also a volunteer.
"This is kind of a hell year," admits Cullinan, who is working towards his goal of becoming a school psychologist. "When I was thinking about (volunteering) I was thinking, 'I don't have any time.' But really, an hour a week is no big deal."
Cullinan gives his "hour a week" to the Compeer Program, which pairs local volunteers with clients from the Bert Nash Community Mental Health Center who are in need of a friend.
Cullinan and his "Compeer friend" play basketball, go fishing, eat out, go to movies and do other sorts of things that friends do. They met a year and a half ago at the Bert Nash Center and have been buds ever since.
"At first it's a little awkward, like going on a first date or whatever," Cullinan says. "As time goes on, you develop that relationship and it becomes a lot easier."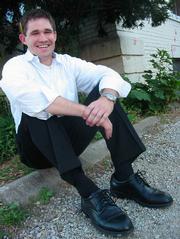 The Bert Nash Center treats a wide range of mental health issues, from depression to bipolar disorder to schizophrenia. Many of the Compeer Program's clients are high functioning members of society who simply need a little extra support.
"It means a lot to the people that are in it," Cullinan says. "Especially people who have severe mental illnesses and may not have many friends in the community outside the mental-health field."
The program stresses equal relationships by having both parties pay for activities, though Bert Nash does pay for one group outing each month.
According to Cullinan, the program requires a very minimal investment of time and effort.
"You don't really need 'expertise' or anything," he says. "If you're a good listener and you're willing to commit an hour a week, that's really all it takes."
Persons interested in volunteering for the Compeer Program might have to wait a couple months to find a match, as the program is currently in transition following the departure of its former director.
Persons interested in volunteering should contact Bert Nash 843-9192 (no related experience required).
More volunteer opportunities available at rhvc.org.
Bert Nash Community Development Director Scott McMichael says the center is currently evaluating the program's future.
"We'll probably have a better idea a couple weeks down the road," he says. "I don't know if it will be an exact replica of what we have been doing. It might be combined with something else."
Anyone interested in volunteering for the Compeer Program is welcome to put their name on a waiting list, McMichael says. In the meantime, the center always needs volunteers to help coordinate community events.
"If you volunteer to help with any of our special events, it puts you in contact with our other programs," McMichael says. "If there's something ongoing that people can fit into we'd probably try and make a match."