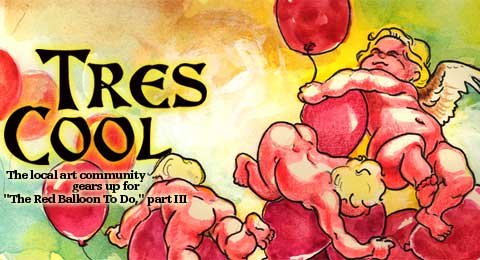 Saturday evening, hundreds of strangers will pass through Chelsea Rae's living room.
The occasion promises to be a house party of the highest order, but it has nothing to do with beer, bands or booty. Well, perhaps booty - as in the hundred pieces of art that will be scattered across a four-block area for the third annual Red Balloon to Do.
"It's a lot more preparation that I initially expected," says Rae, whose house will serve as one of the events' eight makeshift galleries. "At first I was like, 'Oh yeah - big party at my house!' Then I was like, "Oh wait, I have to move all of my furniture and take all my art off the walls...'"
"I'm excited enough about the event enough that I don't even care," she adds. "I'm like, 'Woo! We're going to move furniture tomorrow!' when really it's not that exciting at all."
Up, up and away
Making life exciting is what the RBTD is all about.
Conceived three years ago by a group of friends known as The Lawrence Art Collective, the event has become a mainstay in the local art community. Flash mobs of balloon-toting artwalkers have overtaken the downtown the previous two years, and this year's event is expected to spawn a similar scene.
"I like the idea of an art event being a work of art in itself," says Rae, who also works on the RBTD planning committee. "It's a good social event for the art scene, which needs more events to bring it together."
With approximately 100 contributing artists, the RTBD is one of Lawrence's most inclusive art events. Everyone who submits their work is guaranteed to get at least one piece in the show, and no artist is allowed more than four pieces. A jury then assigns each artwork to a participating venue.
"It's encouraging," says John Reeves, a local project manager for Sabatini Architects who feeds his photography hobby by maintaining a darkroom in his basement. "Instead of just thinking about doing something, it's easy to actually do it."
Four downtown businesses - The Olive Gallery, Bodyworks, Henry's on Eighth and Crafty & Company - and four nearby houses will participate in this year's RBTD. Admission to all eight venues can be obtained by purchasing a $1 red balloon.
According to participating artist Laura Kimble, event-goers should come early and come on foot.
"My friend and I were going to go to the Olive (Gallery) last year but there were about a thousand people milling about out front," she recalls. "There was nowhere to park for blocks, so we just went home and had our own party."
Much to do
With the submission deadline passed (last Thursday), the Red Balloon crew is focusing its efforts on prepping the show. The one-night-only event requires substantially more set-up time, relying on volunteers and venues to design spur-of-the-moment displays.
In the spirit of supporting local artists, no participating venues are allowed to take a commission. According to Crafty & Company owner Chris Deman, the ability to connect with local artists and bring new faces into her store is reason enough to get involved.
"It's a large event that crosses a lot of boundaries and is somewhat less inhibited on the medium (of art)," says Deman, who is also seeking local artists for upcoming store exhibitions. "I think this will bring in a clientele that hasn't been here before, to see that my stuff is applicable to a lot of art and isn't necessarily 'craft' per se."
All mediums of expression are fair game for the RBTD, including performance art, music and poetry. One of last year's highlights was a performance by local poet Adrienne Banks, delivered live sans amplification to a packed apartment off Mass. St.
Three blocks over, local band Anafera performed at a house venue, distracting otherwise preoccupied art-gazers.
According to Anafera's Ben Hartman, the RBTD offers a great opportunity to perform for new audiences without being "imposing."
"We don't really even look up at the audience, so it's nice to have something else going on," says Hartman, who plans to perform again this year. "People have a choice: they can go stand and put their head against the speaker and rock with you, or they can go check out some art. It's not that pressure of being the center of everything."
One of the reasons that the RBTD attracts so many artists is that it only requires a $5 submission fee. According to participating artist Ariel Sherman, that's unusually cheap.
"Normally it's about $25-30 to enter a show, and that's just money that you're basically giving up if they don't take your work," says Sherman, a KU senior in textile design.
"When you're just starting out and you're not real confident in what you're doing and you're pretty poor, it's a lot to give up $25 just to hope that you're going to be able to put something on your resume."
Flight of the red balloon
Since its debut, the RBTD has expanded its reach into the regional art community, attracting submissions from Kansas City, Overland Park, Leavenworth, Topeka, Baldwin, Ottawa and beyond.
This year's event attracted the attention of Basehor artist Chuck Watson, who will contribute a fused-glass piece.
"It's a new experience for me so it makes me feel younger," says Watson, 52. "I'd like to break into the Lawrence art scene. It's probably the most vital art going on in the state right now and I plan on moving to Lawrence in the next year or two when I retire."
The event's regional appeal can partly be credited to groups of volunteers who promote the RBTD at popular events like "First Fridays" in the Crossroads Art District of Kansas City.
"We've got a lot of great, enthusiastic volunteers who have been in it from the very beginning," says Olive Gallery owner Jill Kleinhans, the RBTD's lead coordinator. "We started meeting in August and they've been here all the time, raring to go."
With many of the founding RBTD artists living elsewhere, The Olive Gallery has become the de facto hub of the event. To help raise funds for next year's show, the store is already stocked with a full line of RBTD merch.
"Everybody gives a dollar but some people like to give more," Kleinhans says.
"Everybody who has participated in it knows that we have to keep it alive."
More like this story on Lawrence.com