Lawrence filmmaker Kevin Willmott has spent the last month barnstorming Southern states to promote - and occasionally defend - the upcoming release of "CSA: The Confederate States of America."
During one interview at a Tennessee-based Fox affiliate he ran into a common attitude of defiance.
"As I was leaving, this old white lady who was a receptionist there said, 'The South will rise again!'
"And she meant it," Willmott says, laughing. "I said, 'It never fell.'"
Starting today, Willmott's "CSA" will appear in theaters. Unlike most movies, which tend to open on the Coasts and then platform to other markets, the faux documentary will initially play in Charlottesville, N.C., and Memphis, Tenn.
"It's always typically about New York and L.A., but not with this film," Willmott explains. "In some ways, they don't know what this is all about. Because they don't see Confederate flags every day like the rest of the country, they don't know that there's this other country going on out here."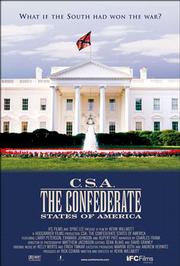 "CSA" speculates what America would be like if the South had won the Civil War and slavery continued into present-day society.
Print ads running to support the feature include a quote from Entertainment Weekly, which raves, "Mind-bending! Scandalous, fearless and hilarious - a satire that overlaps with our own world in juicy and unsettling ways, undoing reality and embracing it at the same time."
Considering the subject matter, IFC Films is taking a calculated risk by first releasing the picture below the Mason-Dixon Line.
"They deny it is for the controversy factor," says "CSA" producer Rick Cowan. "But can you help but believe it?
"(IFC) should just say, 'It is because we want to fire these people up.'"
Cowan maintains that the publicity generated by the strategy will likely help the endeavor.
"People talking about your film is not bad, even if what they're saying is not good," he explains. "Call Michael Moore and ask him. He never would have found the success that he had (with 'Fahrenheit 9/11') if Disney hadn't thrown a fit."
But there already have been repercussions for introducing the film in the South.
Willmott claims there were people in Memphis who were afraid to interview him for fear it would stir up even more friction. The city is embroiled in a controversy involving the removal of a monument to Nathan Bedford Forrest, an iconic Confederate general who also happened to found the Ku Klux Klan.
Additionally, some cinemas have expressed concerns about screening "CSA."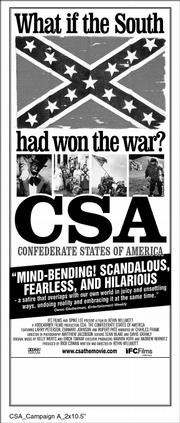 "The theaters never call it censorship," Willmott says. "But when somebody won't play a critically acclaimed film that does well at Sundance and is considered an art film by most people, and when the art film distributors pass on showing it, what else can you say? They're never going to say, 'We're afraid to show it.' But they're not afraid to show Rob Zombie's (slasher flick 'The Devil's Rejects').
"I call it censorship. So the idea is by showing it in these cities they'll see how much money we make, and then the censorship will be replaced by greed."
"CSA" will run at several art houses in both regions, as well as a multiplex mall theater in Memphis. The filmmakers don't expect their project to hit Lawrence or Kansas City until February, when they predict IFC will widen its release as part of Black History Month.
In the meantime, both Willmott and Cowan are heading South this weekend.
"It's not like there's a big premiere for us to attend," Cowan confesses. "There's no question-and-answer for us to attend. It's just a standard movie opening in a theater. But we're going to be down for an event the night before we're doing as a fundraiser for 100 Black Men. We decided we might as well stand around the theater and watch people buy tickets."