Long, black, flowing hair isn't just part of Hong Zhang's appearance. It's part of her persona.
She and her twin sister, Bo, have kept their hair near waist length since attending high school in China.
"The long hair represents our identities," Zhang says. "Long hair is a standard of beauty for Asian women."
For Zhang, hair is emotional. It represents life, sexual energy, growth and even repulsion.
She attempts to capture all of that in her art.
Now, for the first time, Lawrence is getting a glimpse of that art. Zhang, who has lived here for a year, has an exhibition this month at the Kansas Union Gallery on the Kansas University campus - her first in her new hometown.
The majority of the show is graphite drawings that depict hair masquerading as household objects.
"The foundation she's working from is amazing. It's phenomenal," says Dave Hollowell, an art professor at the University of California-Davis, where Zhang earned a Master of Fine Arts. "I'm not sure people know what kind of jewel you've got there."
Humor and beauty
Zhang's hair art started taking root in 2002.
Photo Gallery
Hair Artist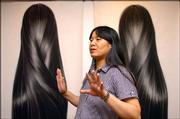 She already had a long history in art from her time growing up in China; her parents were art professors, and her two sisters are artists. She started her formal training at age 15, and later attended the Central Academy of Fine Arts in Beijing, China's top art school.
Zhang, now 34, came to the United States to study at California State University in Sacramento, before moving on to UC-Davis.
Zhang still explicitly draws on her Asian background in some of her paintings. One series, called "Two Cultures," features side-by-side comparisons of American and Chinese culture. For instance, one drawing depicts chopsticks next to a fork and knife.
But it's the hair art that has taken her focus in recent years. She says the project came from finding so many of her long, errant hairs around the house.
"The idea came from my own life experience," she says. "I always found hair in the room everywhere. I wanted to associate it with daily-used objects."
The result was a series of quirky graphite sketches that are designed to make the uninitiated do a double-take. The drawings show realistic household objects, with a portion of the object replaced by hair.
They include:
¢ A cheeseburger with hair replacing the cheese.
¢ A cassette with hair replacing the tape.
¢ A power cord with hair as the frayed wire ends.
¢ A toilet paper roll with hair replacing the paper.
One of the most striking is a sink overflowing with fluidlike hair.
"They show hair not only looks beautiful, but it also looks repulsive, like when it's in the sink," she says.
Zhang says her goal is a mix of beauty and humor.
Michelle Tran, the cultural arts coordinator for Student Union Activities, which is sponsoring the KU show, says response to the exhibition has been overwhelmingly positive since it opened Sept. 19.
"We're very pleased to have her," Tran says. "Even though she lives here, she's displayed in L.A. and other places but never here in Lawrence. She's had excellent reviews everywhere else she's been."
'Flowing feeling'
Zhang also has another series of hair art: "Twin Spirits," a group of large charcoal drawings on scrolls that roll onto the floor. One pair from that series, measuring 4 feet by 10 feet, is at the KU exhibit.
The same drawing was displayed earlier this year at a contemporary art exhibition at the Portland (Maine) Museum of Art. Jessica Routhier, the museum's associate curator, says the piece has a sense of motion not normally seen in charcoal drawings.
"People just loved it," Routhier says. "It's just done with virtuoso charcoal work. It had a beautiful, soft, flowing feeling to it. It definitely has the potential of being a museum piece."
Next step
Zhang's work already has won her some acclaim.
Last year, she received the $20,000 Daedalus Foundation Master of Fine Arts Fellowship. She also has been an artist-in-residence at the Skowhegan School of Painting and Sculpture in Maine.
Zhang gave birth to her first child, a girl, on Monday. She and her husband, KU political science professor John Kennedy, expect that to take a lot of their time in the coming months.
But Zhang already is making plans to make color oil paintings of the works in her "Hair Power" series.
Hollowell, the UC-Davis professor, says moving to another medium could be a breakthrough for Zhang.
"We all know some wonderful Rembrandt drawings," he says, "but when you stand in front of a Rembrandt painting, it's like, 'Holy (crap).'"
Zhang says she's hoping to images still carry the same message when tranferred to a new medium. Her goal: to continue showing that hair isn't just about appearance. It's about aging, personality and raw emotion.
"Hair tells you so many stories," she says. "Some say it's creepy, but it's beautiful at the same time."
More like this story on Lawrence.com