Do not cuddle the bobcats. Do not peek at the skunks.
These are just two of the golden rules that Gwen Gerdsen abides by while volunteering at Operation Wildlife (OWL), a rural facility 10 miles east of Lawrence that provides rescue and rehabilitation services to injured and orphaned wild animals.
"They're so beautiful and you never get to see them this close in the wild," says Gerdsen, a KU senior in organismal biology. "Once you get out there and start working with the animals, you realize what you're there for and the damage that people and urbanization can cause."
OWL is the only facility in the area that treats non-domesticated animals such as possums, squirrels, snakes, birds, eagles, owls, rabbits and deer. It accepts animals that have been hit by cars, shot, poisoned, injured by traps, displaced by construction, possessed illegally as pets and god-knows-what-else. About two-thirds of OWL's animals are released back into the wild.
Since opening in 1989, the facility has been staffed largely by volunteers and funded entirely by donations.
"There are a lot of really generous people that are bringing in animals or calling to say they saw an injured animal," Gerdsen says. "We had a motorcycle biker who donated $1,000 on the spot because he said he saw the damage that people cause when they hit animals (with their vehicles)."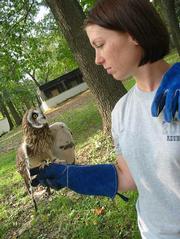 Gerdsen's ambition to be a zookeeper led her to OWL, but no professional experience is required to volunteer at the facility. On-the-job training prepares volunteers to feed animals, clean cages, administer medications and prepare food. Surprisingly, the latter task is often the least desirable.
"When there's a sick bird of prey that needs to be fed, you have to cut up a rat into little pieces and force-feed it," Gerdsen explains. "It's dirty work, and you have to have a stomach for it."
Queasy types can take comfort in the fact that OWL never pressures its volunteers to perform tasks that they don't feel comfortable with. According to Executive Director Diane Johnson, OWL also needs volunteers to help with simple housekeeping chores such as laundry and dishes.
"I've had volunteers who say, 'I can't take live mice out there and put them in the pen with the owl because I would feel like a murderer,'" Johnson says. "I just say, 'That's OK - I'll get somebody else to do it."
Volunteers range from high school students to retired professionals. Those who can't make the drive to Linwood also have the option of taking an animal home for rehab.
"I have a lot of people who do this because they want to give something back," Johnson says. "One girl said to me, 'As a species, all human beings do it take, take, take ... This is my way of trying to give back some of what I've borrowed.'"
Wild animal factoids:
* Any adult wild animal that can be easily approached or captured has a very serious problem. A "tame" or "friendly and quiet" animal is almost always suffering from shock, dehydration, infection, starvation or a combination of these conditions.
Persons interested in volunteering should go to www.owl-online.org and fill out the application (no related experience required.
More volunteer opportunities available at rhvc.org.
* Young mammals may appear lost and alone while merely exploring or waiting for a parent to return. If the animal appears healthy, the parent is probably foraging nearby and caring for its young.
* The length of time between discovering an injured animal and getting it the treatment it needs is critical, and often determines the difference between life and death.
* While on the road to recovery, each animal must be provided with a diet and an environment as close to natural as possible in order to be in top physical condition and fully capable of caring for itself before release.