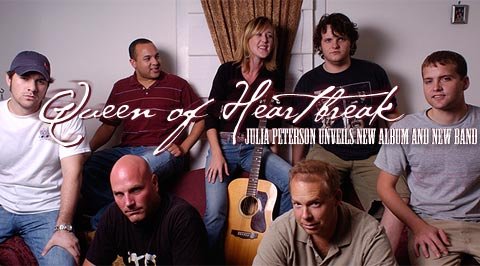 On the first autumn afternoon, a day cool, clear and blue, I listened three times to "What You Came For." It's a good thing there wasn't any whiskey in the house.
"Julia, are you the Queen of Heartbreak?"
"Indeed," she laughed, and her Elvis sunglasses caught the light and glittered.
"What would mend your heart, Julia - marriage, kids, a house and a dog?"
"No. I don't want that right now. I want to play music all around the country, like all these boys get to do."
"Then is heartbreak the grist for your mill? Is it your muse?"
"Don't be silly. I'm just a hell-bent romantic."
Subtract the songs about love and desire and the world's catalogue of popular music would be a mere pamphlet. Love, in all its permutations and exaggerations, is the meat of popular music. And heartbreak - the gristle of love - is traditionally, if not best, washed down with liquor.
In no other form of popular music, including rock and roll, are love and liquor so blatantly conjoined than in modern country music. And there's whiskey all over "What You Came For" - whiskey and bittersweet love, steel guitars and country twang.

"Saturday night,
Sitting 'round the kitchen,
Lucinda playing in the other room.
Too tired to sleep,
Whiskey won't go down;
Empty house, empty rooms."
-"Against Me"; Julia Peterson 2005

Album Mp3s

What You Came For
The Midwest pervades Julia Peterson's music. The spare, stripped down arrangements reflect the landscape; Peterson's lyrics are as honest as the big Kansas sky; her sweet and sultry voice evokes the longing and lonesomeness of train whistles.
Peterson's debut recording, "Unrequited Love Songs" released in 2002, was a cathartic, a "Nebraska" for the lovesick - just Peterson's clear, strong voice and her guitar.
"Unrequited Love Songs" was introspective, confessional, more reactive than pensive and, well :young.
What You Came For
"Easy as Pain" opens the new album, and there again is Peterson and her guitar. No surprises here.
Then comes the twang of an electric guitar, a flourish of drums and The Breaks explode like a velvet grenade. Peterson's voice is smoky sweet; she sings out with new-found confidence; her voice flattens and soars, whispers and rasps; her performance measured and controlled.
The girl is a woman now.
The band, a subtle tractor-beam of sound, holds back - Peterson is the centerpiece, and she shines.

The primary virtue of "What You Came For" lies in the crafting - this is a beautifully constructed record.
"Everything's there for a reason; it's all where it's supposed to be," confirms Peterson.
Upcoming shows
Julia Peterson and the Breaks
Peterson's new band, The Breaks, is remarkable in its restraint, especially considering the pedigrees of the line-up. Every member of The Breaks is a blue-blood of the Lawrence music scene, each of them soloists in their own rights - yet for Julia Peterson, they hold back. Each part is considered and deliberate, meticulous and designed to complement - there are no star turns here. In effect, The Breaks are a thunderstorm rolling in the distance, punctuated by discreet lightning, and blown by the sultry breeze that is Peterson's new-found voice.
The band's respect and admiration for Peterson's work comes through loud and clear.
Hitsville
Every song on "What You Came For" is a winner. While "Unrequited Love Songs" naturally had is fair share of youthful sap, the new album presents compositions more insightful than confessional. Love and loss brings wisdom the hard way, and so does whiskey.
"I can't write about love when I'm in it - the songs come long after the situation. So far, it's break up, make a record, break up, make a record:"
"Isn't that a hard road?" I wonder.
"Nah. I'm pretty tough."

Yet Peterson's lyrics on "What You Came For" are far from jaded. On the new record, Peterson shifts the perspective of her songwriting from subjective to objective, less the Queen of Heartbreak and more a Sage of Love.
"We deleted all the victim songs," says Colin Mahoney, drummer and engineer on "What You Came For". "No pining, no whining".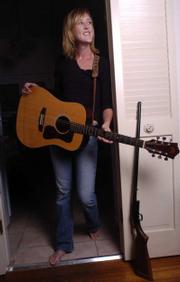 Nor is "What You Came For" just another chick flick - anyone can relate to these songs. It would be fair to say that most of the album hits a mellow groove. Peterson favors mid-and slow-tempo compositions - tempos which test a vocalist's prowess and leave no room for error.
"What You Came For" is music for the end of the night, when a guy is sweeping up and the bartender keeps looking at you. Or for lying on your back in a field, watching the clouds, and moving your hand over to touch the hand of the angel beside you. Or for when you get out of the shower, dry your behind and think about what a dog you are.
Meet The Breaks
Every three minutes her phone rings. Peterson's trying to arrange practice on a Sunday. One guy's not giving up a Chiefs game. Practice moves to 8 pm. That means rescheduling a photo shoot, on the weekend.
"I'll never have a seven-piece band again," Peterson swears, and you know she's fibbing - she's plainly delighted with her posse.
"They're all Lawrence guys. I met them:um: in bars." Peterson flashes a sweet smile.
The band shows up for practice and there are sixty beers in the refrigerator.
"I didn't have time to cook today," Peterson explains.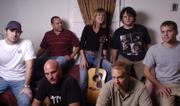 Many names came and went before settling on The Breaks: The Owls, The Baby Makers, The Gentleman Callers:
And The Breaks are Nick Colby (Ultimate Fakebook, Dead Girls Ruin Everything), bass; Cameron Hawk (Dead Girls Ruin Everything), guitar; Nate Holt (DJNOTADJ, Wobbly H), keyboards; Jeff Jackson (OK Jones, Buffalo Saints, Holstein), pedal steel; Dave Lara (Last Call), guitar; and drummer Colin Mahoney.
Mahoney engineered Peterson's first record "Unrequited Love Songs" at his Z'Gwon,th Studio downtown (now Neighborhood Studio).
Early this year, Mahoney bumped into Peterson downtown: "I'm making another record," she said; "Wanna join me?"
"Julia played me the new stuff and I was astounded," said Mahoney. "It seemed to me, listening to those beautiful songs, that the record was nearly done - all we had to do was not mess it up."
Still, it took nearly six months to weave the tapestry of "What You Came For", which features guest turns by keyboardists Mike McFarland (The Band That Saved The World, Apollo 13), Georgia Sutton (Kirk Rundstrom Band), Mike Shull (TriPoint Paradox) and Chubby Smith on keys and dobro (Chubby Smith Five, Lonesome Hobos).
"It was a meticulous effort, finally ready for closure," Mahoney smiles.
Luck Is Being Ready
"What You Came For" debuts on Thursday, October 13th. Peterson will perform a solo acoustic set at Kief's downtown at 5 pm; and a show with The Breaks and guests Heather Lofflin and Amy Ferrand at the Bottleneck at 9 pm.
On October 29th, Peterson presents a Neil Young Tribute, also at the Bottleneck.
"Thanks to my father, I grew up listening to Neil Young. As I grew older, I began to understand Young's brilliance. What he does is so simple - familiar chord progressions, no bells and whistles. I strive to make that kind of music." Along with Peterson on the Neil Young Tribute bill is Ghosty, Dead Girls Ruin Everything, This Is My Condition and The Belles.
What's next for Julia Peterson and the Breaks?
"Some smart touring," says Peterson, "a few five day strikes. I want to play a couple of shows in Austin."
"Do those Austin City Lights beckon you, Julia?" I ask.
"I think it's the place for me," she says.
And I have a feeling that, not long after the release of "What You Came For," Julia Peterson will be where she wants to be.