Cameron Crowe is most effective when his movies are steeped in realism.
His Oscar-winning script for "Almost Famous" attained a towering level of truth, partly due to it being based on Crowe's own experiences as a 15-year-old reporter for Rolling Stone in the early 1970s.
His biggest box-office hit, "Jerry Maguire," benefited from a convincingly bittersweet romance and an insider's view of sports agents.
In his latest romantic comedy, "Elizabethtown," writer-director Crowe constructs a tangled relationship between a hot-shot shoe designer (Orlando Bloom) and a flighty flight attendant (Kirsten Dunst). Despite the somewhat questionable pairing of these two particular actors, they manage to satisfyingly play off each other.
But everything else in the picture feels like a complete sham. Its meditations on death. The Americana-themed third act. The overbearing soundtrack that is supposed to reflect the musical tastes of its lead characters. Susan Sarandon's absurd performance.
Especially ridiculous is its depiction of the residents of Elizabethtown, Ky., who Crowe envisions like 1940s subjects in a Norman Rockwell painting. It's the kind of place where nobody has any purpose other than to wait around until a big-city person shows up to tell them how to do things right. It's a version of "America" that only a lifelong resident of California like Crowe could possibly think exists.
In "Elizabethtown," Drew Baylor (Bloom) meets Claire Colburn (Dunst) while flying to the rural Southern locale where his father recently died during a return visit. Since he's considered "the responsible one," his mother (Sarandon) and sister (Judy Greer) have dispatched him to deal with the nutty extended family members and bring back the body to Oregon.
What none of them know is that Drew was making preparations to kill himself. The Nike-like company that he works for stands to lose $972 million based on the fallout from his faulty shoe design, and he has only a week before news of his ineptitude will make him a national laughingstock.
Movie
Elizabethtown
**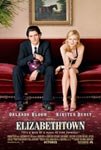 Talented writer-director Cameron Crowe can't decide what type of movie he wants to make in this tale of a hot-shot shoe designer (Orlando Bloom) seduced by a flighty flight attendant (Kirsten Dunst). Is it a satire of corporate culture? A road movie? A big-fish-in-a-small-pond comedy? Is it "Garden State?" It's all of these and none of these.
Fortunately, his red-eye conversation with Claire turns into an ongoing bond with the free-spirited woman. Between the reconnection with his roots and the newfound attention from this adorable sprite, perhaps Drew can find a reason to live.
Crowe previously cast Ashton Kutcher in the lead, but he fired the actor because he and Dunst generated no chemistry. (At least he didn't dump Dunst and replace her with Demi Moore.)
It's tempting to blame the two stars for this cinematic misfire, yet such criticism would be misguided. Crowe could have cast a young Jack Lemmon and Audrey Hepburn in the roles, and it wouldn't have dramatically improved the story.
It's the script that bears the burden.
Crowe can't decide what type of flick he wants to make. Is it a satire of corporate culture? Is it a road movie? Is it a big-fish-in-a-small-pond comedy? Is it "Garden State"?
The answer is that "Elizabethtown" is all of these and none of these. Yet it's still very watchable up until the final act. Then it starts to fall apart somewhere between the time Sarandon tap dances during a eulogy and a basement band's fiery performance of "Freebird" sets off the sprinkler system. It even goes south from there, so to speak.
In fact, the movie comes across like the director died about two-thirds of the way through filming and a loony relative stepped in to finish the project.
What makes the whole enterprise so frustrating is there are so many individual scenes and throwaway details that resonate.
The opening moments (featuring Alec Baldwin as a Phil Knight archetype) that involve the floundering footwear are hilarious. So is the fact that Drew is sharing a hotel floor with a wedding party that has turned the weekend into a drunken romp. The exploits of "Chuck and Cindy's wedding" continue to provide peripheral commentary about Drew and Claire's own fling.
"There's a difference between a failure and a fiasco," Drew narrates in the film's intro. Crowe's formidable abilities ensure that "Elizabethtown" is no fiasco. But even his cleverness can't prevent it from failing.