The Lawrence Chamber Orchestra plans to bring in the noise and the funk when it premieres a new work by local composer Bill Funk as part of its first concert of the season, "Dancing Around the World."
The performance is so named because artistic director Steven Elisha wanted to do a show with "variety, something that skips from here to there." The unifying element is a dance-music quality in the songs.
The concert will feature traditional pieces, such as Edvard Grieg's "Holberg Suite, Opus 40," Edward Elgar's "Serenade in E Minor, Opus 20" and Bela Bartók's "Romanian Folk Dances," as well as the new Funk piece, "Concert Piece for Strings."
"(Funk's work) is very modern," says orchestra manager Mick Braa. "It practically begs for a modern dance troop to perform it."
Funk agrees.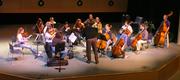 "With chamber music, you sometimes get a dated repertoire. The audience comes to hear the same music played 200 years ago," he says. "For Steven to do this is a risky undertaking. I really admire him for trying to foster new music."
Taking risks is nothing new for the orchestra. This season is a pivotal one, as the group struggles with funding and trying to find a niche in the Lawrence music scene.
Last year, an anonymous patron gave the orchestra $100,000 to start an endowment fund, but money for this season is still an obstacle, Braa says, because the orchestra will have to wait a year to draw interest from the endowment.
"People may have heard about the endowment and think that we're fine now, but we're still struggling concert to concert to come up with funds," Braa says.
Both in terms of funding and the future structure of the orchestra, this year is pivotal, he says. In previous seasons, the orchestra has included up to 35 to 40 musicians, with horns and winds in addition to strings.
Past Event
Sunday, October 16, 2005, 3 p.m. to 5 p.m.
Lawrence Arts Center, 940 New Hampshire St., Lawrence
All ages / $5 - $10
"This year we're trying to use a core group of 15 or so strings only," Braa says. "But we want to see if Lawrence can support a small orchestra."
With all of the musical opportunities in the area, from concerts at the Lied Center and Kansas University to the club-music scene, the orchestra is competing with many groups for local audiences.
"To draw interest, we have to play extremely well," Braa explains. "With all the music available, we have to awe people and show them that this is a professional group that can really perform."
Also scheduled this season are a holiday-themed concert on Dec. 23, the annual "Baroque by Candlelight" on Feb. 11 and a "Spring Celebration" featuring the orchestra's Young Musician Competition finalists on April 9.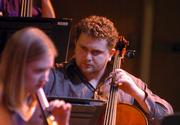 The orchestra draws from a wide range of performers to produce its concerts. Any given show includes KU faculty, select KU students, semi-professionals and professionals who tour in the area. Some of the greatest challenges for Elisha are preparing a concert in just five rehearsals and pulling together a program without knowing which musicians will be available.
"Frankly, some of these musicians could grab a few friends, practice once, and do a wedding and make more money than we can pay them for five rehearsals and a concert," Braa says.
So the orchestra relies on the unique opportunity to play chamber music in Lawrence to draw high-caliber musicians. Braa and Elisha are also in it for the experience rather than the money.
"I'm called a quarter-time manager," Braa says. "But that really describes my pay and not the time that I put in. Steven is the same way.
"We are all doing this as a labor of love - a love of music more than anything else."