Sweet, blessed Massachusetts Street. Bastion of local business, historic buildings, buzzing nightlife and ... racial profiling?
As state and local officials prepare to crack down on profiling - with the passing of a new law meant to sniff out the illegal practice within law enforcement agencies - Lawrencians share their personal stories. They believe they've been targeted by police because of their race, even on the liberal thoroughfare that is Mass Street.
That's where Kansas University student Russell Hayes says he experienced racial profiling for the first time - several years ago during his first week living in Lawrence.
"My boy Jermaine and I just wanted to see what Mass Street was all about," says Hayes, who is black. "We hooked up with some cats from Kansas City, just walking down the sidewalk."
He says two members of the Lawrence Police Department soon approached him and his friends, who were all black.
"For no apparent reason, they asked us for our ID," Hayes says.
He describes the rest of the alleged incident: Officers patted down one member of the group who was not carrying identification, and finally told the men to leave Massachusetts Street. When they walked toward Hayes' car, officers threatened to ticket them for jaywalking. Then, once the men were inside the car, the officers knocked on the windows saying, "Do we have a problem here?"
"So we ended up hanging out on 23rd Street all night, just moping around," Hayes says. "That's how my love affair with the Lawrence PD started."
Hayes, now a senior at KU studying philosophy, says he continued to experience similar incidents over the years. This semester, he's been pulled over three times without receiving a citation, he says.
He says Lawrence police stopped him on the way to Walgreens and to the Boys and Girls Club of Lawrence, where he volunteers, and campus police stopped him en route to Watson Library.
After so many unwarranted brushes with police, Hayes says, he believes the police force in general possesses a negative mentality toward minorities.
"It's not like it's the same cops who always pulled me over," Hayes says.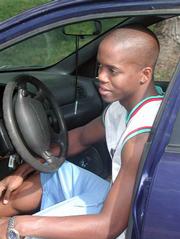 Mike Conley, who finished a master's degree in education at KU last spring, also says he's experienced racial profiling.
"I believe it's a genuine institution in Lawrence," says Conley, who is black. "When I was an undergraduate, I'd actually mark down the number of times I got pulled over. One month I was pulled over 10 or 11 times and received no ticket."
Conley says that, while it's difficult to prove an officer's motivations, he sensed when encounters were racially charged.
"You just have a feeling when it's going on," Conley says. "There were no racial slurs or negative words, but it was the tone that was taken. You could hear aggression in their voice."
Neither Hayes nor Conley filed formal complaints. They both believed it would be futile to file a complaint with the same agency they mistrusted, and that it could draw even more negative attention to them.
Policing the police
The issue of racial profiling has received considerable attention this year as a new state law declared it illegal to profile suspects based only on race, ethnicity, nationality, gender or religious dress.
The legislation followed a 2003 state-funded study finding black and Hispanic drivers three times more likely to be stopped by the Kansas Highway Patrol than other drivers.
The study, conducted by the Washington, D.C,-based Police Foundation, examined traffic stops in northeast Kansas. It found that on a stretch of Interstate 70 near Douglas County, an estimated 4 percent of drivers were black, but 14.7 percent of drivers stopped were black.
The new law, which likely will go into effect in early 2006, stipulates that:
¢ officers record the race of people they pull over;
¢ law enforcement agencies must adopt written policies against profiling;
¢ agencies must inform the public of their right to file complaints with the state Human Rights Commission;
¢ allegations of racial profiling must be reported annually to Kansas Attorney General's Office.
Failure to comply with the law could result in a civil suit against an agency.
The Kansas Highway Patrol has already adopted a written policy and conducted town-hall meetings to address the issue.
At the city level, the Lawrence Police Department is waiting for more detailed instructions from the state before moving forward, says Sgt. Dan Ward, the department's public information officer.
A state-appointed task force is set to give its final report recommending uniform data collection Nov. 15.
When told about the racial profiling complaints received by lawrence.com, Ward encouraged people to file complaints with the department's internal affairs division. Such complaints could result in investigations, he says, adding that "the Lawrence Police Department in no way condones racial profiling."
Mayor Boog Highberger suggested in August that the city create a citizen review board to address broad issues relating to the police department. In compliance with the new state legislation, the city must at least establish a committee to oversee police conduct specific to racial profiling.
The Douglas County Sheriff's Office has responded to the new law already, developing a draft policy on profiling. The policy is to be finalized pending the state task force's recommendations, says Lt. Kari Wempe, a spokeswoman for the office. Wempe also says the sheriff's office will bring its officers up to speed on all aspects of the new law.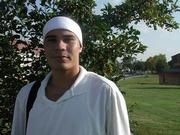 "We will conduct thorough training on the new policy regarding racial profiling, teaching provisions and department requirements to our officers," says Wempe, whose office is comprised of 13 percent racial minorities, mirroring the county population.
Capt. David Cobb says 20 members (11 percent) of the Lawrence Police Department's 161 officers are members of racial minorities.
A 1993 Lawrence Journal-World story reported that the Lawrence Police Department increased recruitment and hiring of minority officers after a KU study found that blacks and Native Americans had lower opinions of city police than did white residents.
But the results of those efforts are unclear, according to Cobb. He says it's difficult to gage the success of minority recruitment, since those who join the department may move or change jobs.
"If you just looked at our hiring, that's one aspect of the issue," Cobb says. "But whether you get to retain them or not, that's a different story."
Profiling or paranoia?
Though minority recruitment efforts have increased in recent years, minority opinions of the police might be slower to rise.
Matt Sulphur, a Native American sophomore and resident assistant at Haskell Indian Nations University, says he has been trailed by area officers for unknown reasons.
"A police cruiser will just follow me around town," Sulphur says. "They'll follow me when I turn, pull into places, everywhere." He wonders whether he's been mistaken for a Hispanic man, and thus profiled on suspicion of being an illegal immigrant. He also wonders whether the Haskell parking tags on his car draw racial attention to him.
Skaionwiio Hemlock, a junior in environmental science at Haskell, says he has never been the victim of racial profiling - even as a young, Native American male who sometimes dresses in stereotypically "street" attire.
"I'll hear people talking about these kind of things, and it may be true," Hemlock says. "But at the same time, people want to become upset right away and point fingers. I feel that, even though the police have the law and can pull you over, you can choose how it affects you."
Hemlock points out that, historically, Native American tribes themselves have been prejudiced against one another. He says that racism is not acceptable, but is deeply rooted in human society. His personal philosophy is based on the moral requirement of Native American chiefs - that they have "skin that's seven spans thick."
"When people say or do mean things, your mind won't be clouded by that hurt. It's easier to say than to do," Hemlock says. He adds with a smile, "I don't want to give an answer that's too 'Native.'"
But Mike Conley says the issue is serious enough that it transcends the personal level.
"To the people that would say we're being overly sensitive or paranoid, I would caution them - if any persons who are supposed to protect the public can overstep their boundaries with one group of people, they can do it with anyone."