Of course no one wants to work.
But why wouldn't you want to work if you can make money painting a handbag or a public bench?
That's the philosophy behind Van Go Mobile Arts, a youth employment program for high-needs Douglas County teens. It's also what attracted Kirstin Wiegmann, a former Van Go volunteer who is now a part-time employee for the program.
"I like coming to a job where people are concerned with how everyone is doing and we make art together," Wiegmann says. "It's kind of self-explanatory - look at this place."
Indeed, the mission statement of Van Go is painted all over its exterior in bright rainbow colors. Inside, the atmosphere is just as charged as bubbly teens sift through art supplies and make chit-chat with volunteers.
"We pay attention to where the kids are at and what's going on emotionally and trying to keep up with that," Wiegmann says. "The main thing that is pushed here is good work skills - learning how to work well with other people."
Many of Van Go's artists (ages 14-21) live amidst poverty, homelessness and/or the juvenile justice system. Some also have educational or mental health disabilities.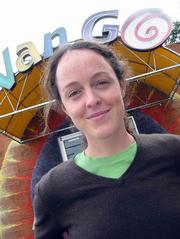 "If you really get involved, you get involved in their lives too," Wiegmann says. "They bring it to work so you hear it."
Each year Van Go hosts four "JAMS" sessions for its artists to create commissioned artwork. The vibe is generally relaxed, but the goal is always in sight.
"Everyone knows their job and there's not a whole lot of room to slack off," Wiegmann says. "The bumpers are up - you're not going to fall down very easily here."
The most important quality that Van Go volunteers should exhibit is self-motivation, Wiegmann says.
"It takes awhile to fit in the groove because everyone's so busy doing their thing," she says. "No one's going to tell you what to do; you have to be able to find your niche and go with it."
"It's not like you have to stay if you don't like it," she adds. "Stick it out for awhile and see."
Persons interested in volunteering for Van Go Mobile Arts should contact Mandy Lamb at 842-3797 or mandy@van-go.org. Volunteers are needed to assist with creative and administrative tasks, special exhibitions, graphic design, photographic and video documentation, archiving and framing. The program is now accepting applications for its next JAMS session, which begins in January. For more information visit www.van-go.org.
Boardwalk fire
Volunteer assistance is needed to coordinate, collect, and deliver donated goods to victims of the Boardwalk Apartments fire. Volunteers may assist by staffing the donation site, or by soliciting, organizing and distributing donations. Items needed include computer equipment and supplies, microwave ovens, small furniture including desks, tables, chairs, small couches, lamps, beds, other household items, and cookware. There is a particular demand for volunteers who have the physical strength or large vehicles required to lift and move large donations. Interested volunteers or donors may contact Mark Griffith of the Greater Lawrence Christian Men's Association at 842-7618 for more information.