The time of year for spooks and ghouls is just around the corner, and the Lawrence Family Theatre has a treat planned especially for the occasion. The Seem-To-Be Players are presenting "The Witch of Lok Island," a play based on a Celtic fairy tale full of magic, nymphs, a hobgoblin, and of course, the witch herself.
Director Ric Averill first began working with the piece in 1985. He added revisions in 2001, he says, to make the play "more beautiful and evocative than frightening" so "even younger children will connect with the material."
The play's appeal to children is evident in the number of them involved. Six-year-old Calder Hollond plays the littlest nymph, Bubble. Though only 6, she is a veteran of the stage.
"I did the 'Nutcracker' last year," she says. "And I do lots of little plays with my brother, I tell him 'You're going to be this character,' and he's like 'OK'."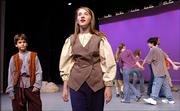 Calder's father, David Hollond, also is in the play, making it a real family event. Calder says she sometimes helps her dad, who portrays the hobgoblin, with his lines.
"I help him with Bella," she says, "I'm good at speaking Jennifer (who plays Bella.) I know her lines and sometimes when dad says it one way, I'll say 'No dad, it's this way!'"
The play is not only intended for families to enjoy together, but there are also a number of families in addition to the Hollonds involved in the production. Several sets of siblings are in the cast, as well as a mother and her two daughters, one of whom plays cello for the show.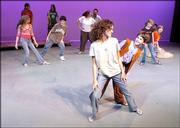 "It's something different that parents can do with their kids," David Hollond says. "You can play sports with them or read to them, but there aren't many opportunities to do something like this with them."
Averill agrees and says having families participate adds another element to the play.
"There is some nice chemistry that happens with families involved in theater," he says. "The family groups tend to naturally expand, and the whole theater becomes a 'family.'"
For the Hollonds and other families in the cast, the chance to perform as a group is the real magic behind "The Witch of Lok Island."
The show
What: "The Witch of Lok Island" When: 2 p.m. Saturday-Sunday and Oct. 29-30 Where: Lawrence Arts Center, 940 N.H. Tickets: Adults, $8.50; students and seniors, $6.50 Ticket info: 843-2787