These days it is difficult to understand how ridiculously hard it was for a woman like Josey Aimes just to be able to do her work at the male-dominated mine so she could put food on the table at home. It may have only been fourteen years ago, but it seems like another planet in "North Country," the new movie directed by Niki Caro ("Whale Rider") and starring Charlize Theron as a sexually harassed mother of two.
Set in the wide expanse of northern Minnesota, "North Country" alternates between beautiful shots of that state's cold, barren landscapes and ignorant backasswards behavior by that state's male iron mine workers. Although some needless captions come up on the screen right before the final credits to tie up the story of what happened to Josey, the movie is really only "inspired" by a true story. "North Country" has a ton of powerful moments, so it is an odd choice that it falls back on the "based in fact" element. It seems like a last-minute desperate move from a movie that didn't really need one.
Josey (Theron) is the movie version of Lois Jensen, who started a class action sexual harassment battle in 1975 that took 25 years and most of her physical and mental health. In the movie, Josey's battle takes nowhere near that long, and is set 16 years later. There is an interesting device that may or may not be useful depending on your age, as the story is framed historically by TVs in the background broadcasting the live Anita Hill-Clarence Thomas hearings from 1991.
Movie
North Country
***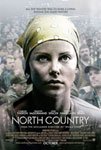 Charlize Theron doesn't stand on a table in the middle of a factory holding up a cardboard sign, but you suspect she could at any moment. Director Niki Caro's story of one woman who fought the horrors of sexual harassment at a northern Minnesota iron mine by filing a lawsuit is well-acted but often feels like a glorified TV movie.
In a scene that sums up most of the local residents' attitudes, Josey's mom (played by Sissy Spacek) is offended and shuts the hearings off. It isn't the harassment or the obsessive media attention that offends her, of course, but the language. The word "penis" is spoken on the TV, and she's had enough. Like most people in the community, these kinds of subjects are better off swept under the rug. Caro has a great knack for naturalistic storytelling, and its strength comes from focusing its attention on the people and not the courtroom (although "North Country" is essentially a Hollywood "issue" film).
Ingeniously enough, the story is told in flashbacks during Josey's hearing. This allows us to actually see what happened to the characters rather than watch them dully recount the events on the witness stand. It also keeps procedural courtroom drama scenes that are ripe with cliches down to a minimum. The reason that true stories get changed in the first place is because they don't necessarily make a good movie.
Michael Seitzman's screenplay introduces Glory (played by a pitch-perfect Frances McDormand), who not only works in the mine, but is on the workers' union board. She has a tough veneer and a joking attitude toward the bigots at work who don't want women around. Even though she lets things slide and barely gets by being "one of the guys," the money is real good, so she convinces pretty young Josey to get a job there as well. A little shit from the men comes with the territory, and Glory chalks up the little victories she gets from the union because she doesn't get ribbed half as bad as Josey and the "girly" girls.
Everything about the people in "North Country" feels authentic. Working at the mine is what men in the town do, and even Josey's own father (Richard Jenkins) feels emasculated that his daughter now works the same job he has for all his life. Theron is completely convincing, and her scenes with Jenkins and McDormand cut deep into the heart of the conflict, elevating most of the movie above other ham-fisted social problem dramas. When the flashback narrative catches up to the present-day courtroom showdown, however, "North Country" loses its footing.
In court, the mine's female lawyer heaps insult to injury, using some good old-fashioned character assassination on Josey. Again, Caro shows a revelatory flashback that deepens her main character. But then Josey's lawyer, an underdeveloped Woody Harrelson, undermines (no pun intended) the subtle layers of the script when he tries to crack an ex-boyfriend on the stand. You've seen it a million times before, and when it's over, the screenplay digs up another made-for-TV moment for the finale.
Then come the epilogue and dedication captions. The movie ends, and we're reminded that "North Country" is "inspired" by a true story. Isn't it enough to have interesting characters that we care about? The ending does not make everything ring false, it's just unfortunate; a sign of the times.
More like this story on Lawrence.com