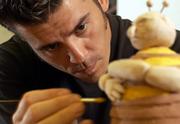 A tradition is something we expect - maybe eagerly await - to happen every year.
The Bizarre Bazaar, the frenzy of the sidewalk sale and the fire department rescuing Santa from the roof of Weaver's Department Store are all part of what makes living in Lawrence a unique experience. Another Lawrence tradition is due to recur next weekend in the homes and studios of artists throughout the city.
The 11th annual Lawrence ArtWalk will allow art enthusiasts and anyone else who wants to get out and enjoy the weather an opportunity to see local artwork that's displayed precisely where it's created.
Ben Ahlvers is new to the show - and new, in fact, to Lawrence. Ahlvers, who moved to town last year from Ohio, works at the Lawrence Arts Center as a studio supervisor and teacher. He creates ceramic sculpture at his home studio but fires it in kilns at the arts center.
Past Event
Saturday, October 29, 2005, 10 a.m. to 6 p.m.
Downtown Lawrence, Lawrence
All ages / Free
"I don't know very many people in the Lawrence art scene besides the ones I work with at the arts center," he says, "I saw this as a good way to get involved with the art community."
Ahlvers, who has a Master of Fine Arts in ceramics from Ohio University, has sent pieces to group shows in London, Spain and China. But he also sees benefits in doing homegrown shows.
"I think it's a good opportunity to get people in the community to be aware of what's being made next door," he says. "Plus it's easier than boxing and shipping the pieces all over the country."
Among the works Ahlvers will show in the ArtWalk are pieces from his Bee Series. The rotund clay figures have both insect and human attributes, from fingers and arms to wings and antennae.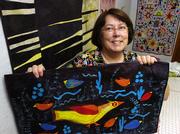 "At the foundation of my work is the idea of identity and how it is formed," he explains. "Translating thoughts of people, places and events from my past into the art that I create is where the fun is at. The end result is always a little tongue-in-cheek, but the work always begins from something real in my life."
While artists like Ahlvers are new to the area, some stops on this year's ArtWalk will be inhabited by local favorites. Constance Erlich was selected to be the featured artist this year, and her work appears on posters for the event.
Another familiar face, Linda Frost has lived in Lawrence for more than 30 years.
"I came as a student and never left," she laughs.
Despite her veteran status in the art scene, this will be Frost's first year in the ArtWalk. She'll display her textile art at her home near the Kansas University campus.
"My sewing room is too messy," she says, "so I think I'll just do it in the dining room."
Past Event
Sunday, October 30, 2005, noon to 6 p.m.
Downtown Lawrence, Lawrence
All ages / Free
Frost's work combines quilting, screen printing, stamping and sewing. She draws her inspiration from a variety of sources, including comic books, her pets and paintings she admires. Given the complexity of her work, she sometimes finds it difficult to explain her style to people without textiles experience.
"Just last week, I told someone I'm a quilter, but ... it's not that exactly," she says. "Sometimes folks will say they're textile artists or mixed media or wall quilts to separate them from traditional bed quilts."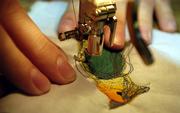 Frost is looking forward to showing her work instead of merely talking about it.
"I think the ArtWalk puts a more personal face on it," she says. "You get an in-person explanation of how it was done or what inspired it."
Ahlvers agrees that part of the fun is talking to people in the community about your work.
"It's really cool to see what's going on in that shop you drive by every day," he says. "And for me personally, going into someone's studio is interesting. I'm always interested in seeing how something was made or done."
Correction
A graphic in Sunday's Pulse section gave the correct address but the wrong location on a map for the studio of artist Judi Geer Kellas. Her studio is at 18711 Jefferson Hills Drive, which is about 3 miles north of U.S. Highway 24-40. For directions to Kellas' studio during this weekend's Lawrence ArtWalk, call 843-7749 or e-mail jgeerkellas@gmail.com. The ArtWalk runs from 10 a.m. to 6 p.m. Saturday and noon to 6 p.m. Sunday.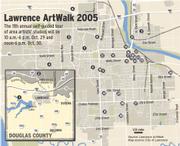 Sites to visit along the tour
1. Catherine Hale Robins, sculpture; Mick Braa, painting and mixed media; John Wysocki, photography; 448 N. 1500 Road, 887-6907 2. MidWest Sculptors' Guild, Dragon's Haven Artworks, sculpture, painting, ceramics, mixed media (3-D), wood and stained glass, 1673 Republic Road, 393-9949 3. Judi Geer Kellas, painting, drawing and printmaking, 18711 Jefferson Hills Drive, 843-7749 4. Susan Egan, glass and jewelry; and Yvonne Channel, drawing, painting and ceramics; 4216 Harvard Road, 842-7581 5. Constance Ehrlich, painting and mixed media (2-D and 3-D), 201 Fall Creek Road, 832-2108 6. Karla Nathan, painting, mixed media (3-D) and jewelry, 1754 E. 1200 Road, 832-2835 7. Jewell Willhite, painting, 2903 Schwarz Road, 843-2063 8. Kathleen Anderson and Pam Rees, painting; 227 Iowa, 865-4219 9. Barbara Solberg, mixed media (2-D), painting, printmaking, 2504 Westdale Road, 832-9413 10. Shakura Jackson, photography, 1335 Valley Lane, 841-6138 11. Linda Frost, fiber, mixed media (2-D and 3-D), 1313 Raintree Place, 841-3244 12. Carolyn Young, photography, 803 Highland Drive, 842-9652 13. Toni Brou, mixed media (2-D and 3-D) and painting; Paula Richardson, jewelry, ceramics and sculpture; 806 Ark., 749-1062 14. Susan McCarthy, drawing, painting and sculpture, 625 Ohio, 832-1856 15. WITHDRAWN Ravi Phull, ceramics and mixed media (3-D), 1008 Ohio, 856-7542 16. Dian Hauser, mixed media (2-D), painting, digital art; Laura Kimble, painting and drawing; Karen Ohnesorge, digital art and mixed media (2-D and 3-D); Jake Vail, drawing and painting; Downtown Tuesday Painters; Lawrence Public Library, 707 Vt., 843-3833 17. Downtown Tuesday Painters, painting, sculpture, drawing and wood, Douglas County Senior Services, 745 Vt., 842-0543 18. Diane Horning, fiber, ceramics, glass, jewelry and wood, Diane's Artisan Gallery, 801 Mass., 856-1155 19. Julie Kingsbury, jewelry, 19 W. Ninth St., 832-8693 20. Kelvin Schartz, metalworks, glass, sculpture and mixed media (2-D), It's About Time gallery, 816 Mass., 842-1500 21. Kelvin Schartz, metalworks, glass, sculpture and mixed media (2-D), Back to the Garden (gallery) and Celestial Ironworks (studio), 619 N. Second St., 749-3109 22. Kristin Morland, fiber, 737 Conn., 312-7579 23. Marty Olson, painting, 416 E. Ninth St., 841-2254 24. Lawrence Photo Alliance, photography; and Ben Ahlvers, ceramics; Lawrence Arts Center, 940 N.H., 843-2787 25. Lauretta Hendricks Backus, painting and ceramics, 933 Pa., 843-8098 26. Dave Van Hee, mixed media (3-D), sculpture and painting, 1511 E. 1584 Road, 749-7344 27. WITHDRAWN Pat Ransone, painting and photography, 13 Winona Ave., 749-3531 28. Edward C. Robison III, photography and graphics/printmaking, The Image Works, 711 W. 23rd St., 865-0777 29. Nancy Lehenbauer Marshall, painting and drawing, 908 W. 20th Terrace, 841-9241 30. Celia Smith, prints and painting (acrylic and ink), 907 W. 27th Terrace, 843-8417 31. Enrique Peñaloza, sculpture, painting and photography, 2539 Ridge Court, 842-2075 32. Tudy Youngberg Haller, ceramics and sculpture; S. Michelle Babcock, jewelry and mixed media (2-D); and Tanya McNeely, ceramics, mixed media (3-D) and sculpture; 1720 W. 20th St., 842-6715