Children visiting the Douglas County Dental Clinic can thank for Mary Thompson for the free book they get to take home with them.
Thompson recently completed a two-year term with AmeriCorps. Her assignment was to fulfill "America's Promise" by promoting youth volunteerism and literacy, a task she accomplished by building an 8,000-book giving library at Lawrence's Partnership for Children and Youth.
"It was perfect for that time in my life, because I didn't know where I wanted to go or what I wanted to do," Thompson says. "It's definitely directed me towards getting my masters in social work."
The library now serves more than a half-dozen agencies in the Lawrence area as well as walk-in visitors (many of whom have business at the nearby ECKAN center). It will soon be transferred to the stewardship of the Roger Hill Volunteer Center, which is seeking a local volunteer to manage it.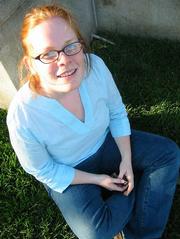 Like many AmeriCorps volunteers, Thompson found the experience to be as rewarding as it was demanding.
"I think what I benefited from most was making connections in the nonprofit sector," she says. "I went away with the idea that passion is what drives people in nonprofits; not necessarily the paycheck."
Thompson was also responsible for organizing service projects for local youth such as Habitat for Humanity builds and pie bakes for holiday dinners. With her salary averaging out to about $7 an hour, she had to hold down a second job and live on a budget.
"Coming out of college, I was already acclimated to the living circumstances, so it wasn't such a huge change for me," she says. "The gentleman before me actually lived with his folks, so that worked out fairly well."
Unlike the Peace Corps, AmeriCorps positions are fairly easy to find locally. Positions are ongoing at The Roger Hill Center, The Kansas Association for the Medically Underserved and The Kansas Department of Wildlife and Parks. Information on position openings is available through The Kansas Office for Community Service.
Persons interested in joining AmeriCorps should visit www.americorps.org or contact The Kansas Office for Community Service (www.kanserve.org) for information on local positions.
More volunteer opportunities available at rhvc.org.
According to Thompson, AmeriCorps is perfect for liberal arts grads who have no idea what they want to do with their lives.
"The majority of people that are in AmeriCorps are in their early 20s," she says. "You graduate with a degree in liberal arts - it doesn't necessarily guarantee you a job title."
Thompson says she also learned a lot about the Lawrence community by participating in AmeriCorps.
"I think Lawrence is a very giving community, but we get distracted by certain issues," she says. "Nothing is really fully completed - there's always something on the backburner that was started awhile ago and now it's just simmering."