Thursday, October 27, 2005
"I have open, festering sores," said Brandon Bellinger. "It sucks. But you go into these challenges and you just forget it."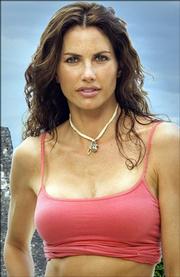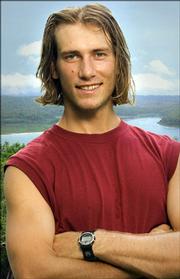 Wildcat Brandon and Jayhawk Danni Boatwright overlooked their deteriorating physical conditions on Day 16 of the competition, which began with a reward challenge involving "teamwork and a lot of dexterity," according to "Survivor" host Jeff Probst.
The Kansan-led Yaxha tribe competed against the larger Nakum group in a game that involved a more complicated, bondage-driven version of a three-legged race. Yaxha triumphed and got to indulge in one of the Mayan's premier discoveries: chocolate.
"Man, I pigged out," Brandon admitted.
Since it was Danni's 30th birthday, she celebrated by inviting the rival tribe over for a pool party. Some enjoyed the mingling, but for others it merely fueled more antagonism.
At the immunity challenge, the five-person Yaxha took on the six-person Nakum in a contest to find giant puzzle pieces and assemble them into a Mayan-style calendar.
Danni's birthday wish obviously went unfilled, and her team lost by a few steps.
Police officer Amy approached Danni with the idea of voting Bobby Jon out on the basis he was not as deserving as his teammates because he had been part of a previous season's "Survivor" cast.
At tribal council, Danni confessed, 'We've all bonded so well."
But someone had to exit the stage. Amy's gambit failed, and she became the eighth person voted out.
At the end of the episode, Probst announced there would no longer be two teams, and the remaining four Yaxha members were told to pack up and merge with Nakum.