Back together after a decade apart, Digable Planets may not have been the first to fuse the laid-back hipster elements of jazz with hip-hop, but they did it better than anyone before or since. Their debut album "Reachin'" rode the single "Rebirth of Slick (Cool Like Dat)," and eventually landed them a Grammy for Best New Group.
The sound was firmly situated in New York City, though the trio - Craig "Doodlebug" Irving, Ishmael "Butterfly" Butler, Mary Ann "Ladybug" Vieira - eschewed the East Coast v. West Coast battle for a more transcendent human struggle. A brilliant second album that yielded a live band tour - including a stop in Lawrence - but soon after the group quietly split up and dispersed to pursue solo projects. Before the group's reunion tour stop in Lawrence, Doodlebug talked with lawrence.com; following are highlights from the call ...
lawrence.com :: You just released Beyond the Spectrum. I understand it's a comp of tracks from your first two albums and B-sides. Is that right?
Doodlebug: Yeah it's the best of all our old classics and a couple songs that were never released on the American versions of the albums. Some import shit.
Why did you decide to put that out now? By way of reintroduction to a new generation or:?
Past Event
Wednesday, November 2, 2005, 8 p.m.
Granada, 1020 Mass., Lawrence
All ages / $20 - $25
Yeah, some of that. But we were on the road and EMI caught wind of what we were doing and was interested in riding the wave of the reunion tour. The content we have signed with them, they have the ability to put out a best of any time they want ... they got in touch with us and we were willing to work with them a little on it. But the idea we really wanted to implement wasn't really implemented. They weren't interested in going that deep with it. Hopefully later on we can get with another label that will be more interested in really putting it out. We had more unreleased songs, but because of their unwillingness to really go the distance with it, we didn't give them our tracks. If we're going to do a best of, we want to do it nice - lot of nice pictures, a collector's edition for those people who are really fans of the group. It's still a cool project, but we envisioned something bigger.
Is EMI releasing your next record? I read about a year ago on the internet that you were recording a new album:
Nah, we just got back together in February. A year ago we weren't doing anything. A year ago this time, we had just gotten together after 10 years of not seeing each other that much and sat down and had a meeting in New York, and decided at that point that we were going to attempt to do this. Shortly after that, I put together a European tour, which started in February - that was the first time that things were really going.
After that tour, in March, back in the states, the flow was going so well and rapport, everything was so natural, it was almost like we'd never stopped. Everybody was excited, the adrenalin was rushin, and at that point we decided we'd get in the studio and make an effort to make a new album of original compositions.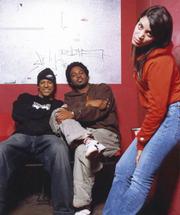 :But we haven't even started on it yet. We've had some ideas and wrote some hooks, but we haven't actually recorded at all yet. We've been so busy, we've gotten so many shows, obligations, that we're kinda booked up til the end of the year. Then we'll take some time off and start recording the album.
All of us have our own recording studios and we all live in different parts of the country. So we'll put together the album ourselves and then take it to a label and see who wants to put it out.
What precipitated you guys getting back together
We were all trying to do it for a minute, but there were just issues that we had to get over from years ago.
Whose idea was it to set up the meeting in New York?
I initiated most of it, but it couldn't have been done unless everybody wanted to do it.
What kind of issues are you talking about? Solo-style creativity that you had to get out on your own, or:?
A little bit of that. But there were a lot of things that went down on the business side that we weren't used to. We were confronted with those issues and instead of really dealing with them in an adult, business kind of way, we just said 'fuck it.' (laughs) We didn't get into music for this bullshit. So we just stepped a way.
The label we were with at the time - Pendulum - was having problems and domino-effect like, the problems came down on us. And then we had management problems and then there was some issues between us personally, and these were all issues that at the time we were immature and didn't deal with in the proper way. So we just walked away.
How old were you at the time?
I'm the oldest, and I was about 23, 24. Mecca, Ladybug, she had just gotten out of high school and Ishmael is two, three years younger than me.
So it had nothing to do with Blowout Comb not getting the same sort of acclaim that "Reachin'" did.
Nah, it had nothing to do with that. The record was a victim of label disputes, between Pendulum and Elektra, and because of that (Pendulum) left Elektra and went to EMI. Not too long after I think that relationship soured also. Our album came out around that time and it got caught in the politics. At the time, it had sold about 400,000 copies, which is decent but not as good as it could have been, so it was overshadowed by the success of the first album.
None of that contributed to the group breaking up. If we could have dealt with the issues that we had to deal with maturely at the time, I think we could have put out three, four more albums...
Today, it seems that there are fewer hip-hop groups anymore that write and produce their own music (a la Digable Planets, Boogie Down Productions, Public Enemy, Gangstarr, N.W.A., etc.), why do you think that is?
Nowadays it's more of a producer-driven industry. Everybody wants some kind of name. I'm sure there are a lot of people out there who produce their own stuff, but at the mainstream level they want you to see 'Produced by Timbaland' or Neptunes or whatever because that sells more records for some reason. The celebrity or brand in the marketplace. It adds a little more luster to your project.
A lot of cats I know in the underground produce their own music though. And I know one thing - the music in schools is definitely dying. I don't know if that's contributing to it, though.
More like this story on Lawrence.com