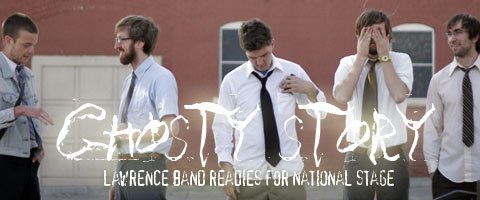 Thursday, September 1, 2005
Andrew Connor can be seen jogging the streets of Lawrence as often as anchoring the stages of the city's music venues.
The singer-guitarist is currently preparing for the Chicago Marathon. He's deep into an 18-week program for the Oct. 9 race that involves four days a week of running and cross-training.
"With running, you can't sit and think about, 'Oh my god, I'm going to run 15 miles,'" says Connor, frontman for Lawrence pop band Ghosty. "You just have to do it and not think about how far you're going."
Connor has applied that philosophical outlook to his band as well.
Since the South Dakota native formed the group five years after heading to Lawrence to earn a music degree, Connor is only now enjoying the tangible fruits of his labor. The band's full-length debut record, "Grow Up Or Sleep In," received its national release Tuesday.
"The people who are making really good music that is worth listening to, most of those people will tell you that you just have to worry about writing good songs," he says. "Everything else doesn't matter."
That mindset has paid off so far. The five-piece is featured (with photo) in the current issue of Entertainment Weekly in a section titled Download This.
"I also just listened to our album at a listening station at Barnes & Noble in Kansas City," he says. "They already had it in stock."
Past Event
Friday, September 2, 2005, 9 p.m.
Granada, 1020 Mass., Lawrence
All ages / $5 - $7
The Kansas band's album comes out on the somewhat ironically named Future Farmer Recordings, a label based in San Francisco.
"I just really love the music," says Future Farmer owner Dennis Mitchell. "I think Andrew's lyrics and voice are very refreshing. The music has a really big sound."
Sleeping in
The 24-year-old Connor explains the title "Grow Up Or Sleep In" as something to which recent graduates in a college town can relate.
"It's not a black-and-white thing to make a decision between growing up and putting a tie on or sleeping in and being irresponsible," says Connor, who earned a Bachelor of Arts at KU in 2003. "That's funny, because that's the way you see the world when you're a little bit younger. As you get older, you realize it's not all black and white. There's a lot of that kind of thing in the lyrics to the album."
Ghosty's musical taste is far removed from the distortion and angst of modern rock radio. The ensemble favors clean guitars, unusual chord voicings and dreamy, melodic vocals.
Album Mp3s

Grow Up or Sleep In
"We've been compared to a lot of bands that we've never really listened to," Connor says. "After the 'Three Pop Songs' EP, a couple of times we got compared to XTC. That actually spurred me to get into XTC much more than I ever had before. I realize that there are connections, but at the same time, when I wrote those songs there was no XTC connection in sight."
Ghosty - whose members also include guitarist-keyboardist Jeff Ferrell, bassist Mike Nolte, keyboardist David Wetzel and drummer Josh Adams - recorded the album in two chunks. Three tunes were tracked by Lincoln, Neb.-based producer Mike Mogis (Bright Eyes). Then the band continued its Big 12 motif and trekked to Norman, Okla., to work with producer Trent Bell (The Flaming Lips).
Conveniently enough, Flaming Lips leader Wayne Coyne dropped by during the sessions in a "pure chance encounter." He was impressed enough with what he heard to invite Conner and fellow Ghosty singer Ferrell to contribute vocals to the Grammy-winning band's track, "A Change at Christmas (Say It Isn't So)."
As a return for the favor, Coyne agreed to share a vocal duet with Connor on Ghosty's "Clouds Solve It," the album's closing cut.
"It was like a rock and roll fantasy camp when Wayne came in," Connor confesses. "It was a huge thrill. He was a really amazing guy."
Lawrence bliss
Ghosty plans to perform the album in its entirety during Friday's CD release show at The Granada.
"The most fulfilling thing has been playing to big crowds in Lawrence," Connor says. "We've done these trips to Austin and New York. They've all been incredibly exciting. But the best experience so far has been building an audience in Lawrence."
The show also will feature opening acts Arthur Dodge and the Horsefeathers and Conner. That's Conner, not (Andrew) Connor.
"It is kind of confusing to people," he says of the hard-driving Lawrence rock quartet that doesn't feature any member with that particular first or last name.
"I don't know if they knew me when they named the band Conner," the Ghosty singer says. "To make matters worse, I was even in the band Conner for a while."
Fortunately, Connor can soothe the mental muddle caused by this musical pairing by jogging a few laps across town. As the musician prepares for the Chicago Marathon, he's also increasing his stamina for a career marathon.
"My brother and I are both training for (Chicago), so we talk on the phone every day and cheer each other on," he says. "But I don't know if I'll be able to run it because Ghosty might be on the road."