Sunday, September 4, 2005
The entire reservation had gathered to wait. They stood in silence - children, mothers, fathers, elders - on parched, unyielding dirt. The Arizona heat danced in waves on the horizon.
The anticipation was almost more than 12-year-old Michael Kabotie could bear.
And then they arrived: a line of tall figures, emerging headfirst from beyond the brink of the mesa. They danced for rain, and the villagers of Shungopavi prayed the visitors' ritual would bring relief.
"It was a really emotional moment for me," recalls Kabotie, now 62 and still living on the Hopi Indian Reservation. "You have all these people, and it's just silence. And I thought that was a big voice; the silence was a big, loud voice."
The memory of this ceremony, called the Shalako, and many others still speak to Kabotie, one of more than 100 American Indian artists in this year's Lawrence Indian Art Show. The exhibit and accompanying Haskell Indian Art Market open for the 17th year this weekend.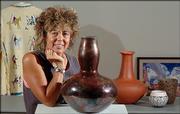 At the root of rituals like the Shalako Ceremony, says Kabotie, lies fear - in this case, fear that drought would wipe out his boyhood community's agricultural livelihood. It's fear, too, that occupies the heart of Kabotie's paintings and jewelry.
"There's a lot of creative process in fear. How we use that fear is how we build cultures, religions and all of that," he says. "In Hopi, they call that uhti (fear) and uhti-he-e (sacred), and it's the in-between of making fear sacred - that's where the creative process lies."
This is the explanation, Kabotie says, for why symbols such as spirals and abstracted clouds surface again and again in his and other Hopi art.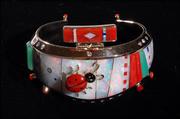 "The spirals are for water movement. The geometric cloud forms are trying to court the rains," he says. "Without rain, there's starvation, there's drought, and there's a lot of hardships, so in order to ease our fears, we try to work in relationship with the natural forces beyond our control.
"So it's basically talking to the clouds and asking them to come and be part of us."
Kabotie, who graduated high school at Haskell Institute in 1961, will return to Lawrence to deliver a lecture about "Hopi Culture and Art" on Sept. 13 and lead a Hopi Indian jewelry workshop Sept. 16-18. During the clinic, he'll show some of his paintings, which interpret rich Hopi graphics through a contemporary lens, using vivid colors and textures. He'll also display examples of his jewelry, which modifies the traditional Hopi overlay style into inventive three-dimensional pieces.
Diverse works, many visitors
"There is such diversity in what Michael Kabotie does, and there are a number of artists who are like that," says Maria Martin, exhibit coordinator. "They not only paint, but they make jewelry and they're sculptors.
"I think there's always been a diversity in the type of artwork, just with all the mediums that are worked with, and then they're worked with by artists who represent a hundred different tribes, so they bring their own particular cultural background to their work."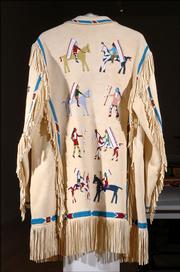 Martin says the Haskell Indian Art Market and Friday's benefit reception typically draw about 40,000 visitors to Lawrence to see work by more than 165 artists. That's up from 5,000 to 6,000 people and 60 artists back in 1989, when the show began.
"Those numbers just keep rising," Martin says.
The work originates in about 30 states - from California to Maine, the Dakotas to Texas - and entry rates suggest the show's reputation is getting better every year.
"We've had the market full since probably late May, which was about the earliest it has been filled, and we have probably 18 to 24 names on a waiting list," Martin says.
New to this year's show is a lecture series and a video screening of Ping Chong's "Native Voices," an oral history theater project featuring five Lawrence American Indians who performed the show in April at the Lied Center.
The real thing
A painting of a kachina doll by Placita, N.M., artist Michael McCullough graces the posters and T-shirts promoting the 2005 Lawrence Indian Art Show. His work also will be for sale at the art market.
The 55-year-old Choctaw uses watercolors and acrylics to render realistic Indian pottery, kachinas and landscapes - so realistic, in fact, that he's often accused of fraud.
"We have to assure people all the time they are not photographs, they are original watercolors or acrylics," he says. "I've had people come at big art festival and go to the promoters and turn me in, so to speak. It's a backhanded compliment."
He started painting as a kid growing up in the Texas panhandle. One night he stuck his toe in a hole in his bed sheet and tore it so he could make a canvas. He stretched it over cardboard and started painting with his sister's makeup.
"It drove her up the wall," he recalls.
After earning bachelor's and master's degrees in art at West Texas A&M; University, McCullough got into art festivals about 1973, when he went with some friends to his first show.
"My wife and I - our rent was not very much back then - but we got a year's worth of rent in one weekend," he says. "You can imagine how much money that seemed to us at that time. So I just started doing art shows."
Even after 33 years of creating one or two posters a year for organizations, McCullough says he's always honored to be asked.
"I'm more flattered now," he says, "than I was 33 years ago, and more grateful for the business that I do now than 33 years ago."
17th annual Lawrence Indian Art Show
Lawrence Indian Arts Show, juried competition, Saturday through Oct. 8, Lawrence Arts Center, 940 N.H., suggested donation of $3 for adults, $1 for students Benefit Opening, including awards ceremony, art preview and sale, reception, silent auction and performance by Nakota LaRance, reigning teen champion hoop dancer, 7 p.m.-9 p.m. Friday, reservations required, $35 Haskell Indian Art Market, 10 a.m.-6 p.m. Saturday and 10 a.m.-5 p.m. Sunday, Haskell Indian Nations University powwow grounds, south of 23rd and Massachusetts street Performance by Nakota LaRance, reigning teen champion hoop dancer, 2 p.m. Saturday-Sunday, Haskell Indian Nations University "A Discourse on Discovery: Native Perspectives on the Trail," Saturday through Dec. 11, Spencer Museum of Art, 1301 Miss. "To Lead and To Serve: American Indian Education at Hampton Institute, 1878-1923," Saturday through Oct. 8, Haskell Cultural Center and Museum, 155 Indian Ave. Hopi Indian Jewelry Making Workshop, with Michael Kabotie, Sept. 16-18, Lawrence Arts Center, registration and materials fee, call 843-2787. Lecture Series: "Hopi Culture and Art," by Michael Kabotie, 7 p.m. Sept. 13, Lawrence Arts Center. Lecture Series: "The Works of Contemporary American Indian Artists Jaune Quick-To-See Smith and Edgar Heap-of-Birds," by Joni Murphy, 7 p.m. Sept. 20, Lawrence Arts Center. Video presentation: Ping Chong's "Native Voices," 7 p.m. Sept. 23, Lawrence Arts Center, $5