Tuesday, September 6, 2005
One week each month, Marita Robinson wears a pager that draws her into crisis situations far beyond the realm of most Lawrence-based volunteers.
As a Rape Victim/Survivor Service (RVSS) advocate for the GaDuGi SafeCenter, Robinson is often the first point of contact for survivors of sexual assault. Her on-call telephone conversations and 4:00 a.m. trips to the hospital lend a helping hand to victims when they need it most.
"It's kind of a weird line of work to be drawn to," says Robinson, who has worked as an unpaid advocate for four years. "But this is the only thing I've ever done that I feel strongly committed to."
Robinson, 22, is not a certified counselor, nor does she have ambitions to continue this line of work in her professional future. She's simply a young woman who wants to help.
RVSS advocates like Robinson accompany survivors to the hospital, police stations and court. They explain medical and legal procedures and answer questions. In a moment of crisis, they provide a calming voice.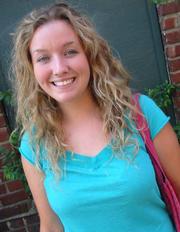 "We're often the first person that they trust," Robinson says. "Our job is just to be a filter - to rephrase everything and make it as simple as possible and reiterate what their options are."
Those decisions - such as whether or not to collect evidence and press charges - are entirely up to the survivors. Rather than pressuring survivors into making decisions, Robinson's job is to make sure they understand what their decisions entail.
"A lot of times people just don't feel like doing anything at that moment," she says. "That's fine, but if you want to pursue the case later the physical evidence deteriorates."
Though RVVS advocates do not claim to be counselors, their simple presence can amount to a lot of comfort.
"There isn't always the appropriate thing to say if you're sitting with a woman in a hospital room," Robinson says. "You simply being there and making it clear that you're there to do what you can is enough."
RVSS advocates stay educated by attending weekly one-hour meetings. At least four advocates are always carrying pagers, minimizing the disruption to their personal lives.
"We don't ever expect anyone to get out of class or leave work," Robinson says. "If school gets really busy or things get really crazy in your life you can always say. 'I don't want to be on the pager right now.'"
Those kind of boundaries also apply on-the-job, where advocates are encouraged to keep their own opinions and motivations out of their work. Off-the-job, however, Robinson is more than happy to speak her mind.
Volunteer at GaDuGi SafeCenter People ages 18 and older that are interested in being RVSS advocates should contact the GaDuGi SafeCenter at 785-843-8985. The center's 24-hour crisis hotline is 785-841-2345 (also the number for Headquarters Counseling Center). More volunteer opportunities are at rhvc.org
"We live in a very progressive community, so there's a tendency to believe that things are better than they really are," she says. "It's never the victim's fault - that's the bottom line."
Resume-builders and volunteers in need of constant affirmation would be wise to look elsewhere.
"A lot of times you are with a survivor and then you never see them again," Robinson says. "I wouldn't jump into this if you're going through an unstable time, but if you feel grounded enough to be in these situations ... it can be really gratifying work."