"I just need to start letting people help me."
So says veteran Lawrence songwriter Danny Pound, known by his admirers as much for his uncanny knack for dismissing career opportunities as for his memorable songs. Avoiding rock-stardom is a habit Pound has been honing since the mid-'90s, when he gave the cold shoulder to the major label suits who courted his raucous indie band Vitreous Humor.
"I think we had kind of a reputation," Pound recalls. "They'd show us an artist roster and be like, 'Look at all these cool bands. Don't you want to be on this label?' ... Then they'd go get us drunk and find somewhere for me to pass out."
Pound revisited this tragic routine many years later during a brief encounter with Bright Eyes frontman Conor Oberst. After witnessing Pound's full-band performance in Omaha one evening, Oberst - an avowed Vitreous Humor fan - casually offered to take the band on tour.
"I really don't know why we didn't follow that up," Pound says. "We walked around and got drunk and pretended like we didn't care.
"Or maybe it was just that we didn't care."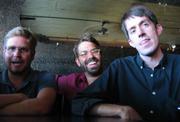 In hindsight, Pound admits he probably should have exchanged phone numbers with the friendly short dude who has since topped the Billboard charts. But Pound has never been a ruthless self-promoter, instead preferring to lay low and let his melancholy music do the talking. With the release "of Surer Days" - Pound's first new record in eight years - he may finally be in a position to do that.
Still, he's going to need help.
"I still would be loathe to just sign my songs away to a soulless bunch of cigar-chomping jerks," Pound says. "A lot of people say they want to help you out. But when it comes down to it, I think they're probably taking care of No. 1."
The remedy
Given Pound's jaded attitude towards the music industry, it seems remarkable that he signed to a label at all.
Upcoming shows
Danny Pound Band
Remedy Records, however, is a different animal than the faceless conglomerates that Pound speaks so skeptically of. Founded by Neighborhood Studios owner Jerry Johnson, the upstart Lawrence label purports to be the artist-friendly alternative to the faceless corporations.
Thanks to Johnson's entrepreneurial background, "artist-friendly" doesn't equate to "broke-ass poor."
"Labels come and go and it's because they run out of money," says Johnson, an electrical engineering consultant by day. "I think if you've got anything less than $30,000 for a single record, you're not going to get too far with it."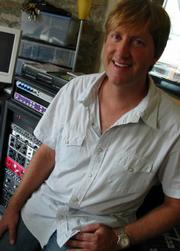 Remedy's sophisticated business model is what separates it from the vanity labels that so often grace the back covers of independent releases. When Remedy's artists complete a record, Johnson promptly shops it to an affluent circle of friends. In return, these "joint venturers" can earn up to a 25 percent return on their $5,000-plus investment.
"They understand that there's a possibility that it won't return," Johnson says. "They're friends of mine who are realtors, insurance agents, restaurant owners, bankers, dentists ... They think it's fun to be able to talk about being a partner in our bands."
So far, the eight professionals who contributed to Remedy's first release (last year's "Room #4" by Arthur Dodge and the Horsefeathers) have recouped about one-third of their investment. The label has already unloaded nearly 3,000 copies of the album and is on pace to repay all of its investors within a couple years.
To sustain that pace, however, Remedy will have to overcome a number of challenges. Johnson singles out distribution as the label's foremost headache, citing a recent experience with a major distributor that failed to live up to its end of the bargain.
Album Mp3s

Surer Days
"Distribution is a terrible deal because it's all about them," Johnson says. "They try to give you money if you have a big record, but if you're trying to push your not-so-well-known artist through their system it's all about you paying."
Such anguish frequently spills over to the promotions side, where Remedy invests thousands of dollars into radio promoters and publicists. Top 40 radio is out of the question (entry level campaigns cost about $125,000, Johnson estimates), but college and public radio stations are within reach - at a cost of $4,000-5,000 to hire independent promoters.
"You always check people out from more than one angle," Johnson advises. "Just because your buddy turned you on to somebody, you still need to go ahead and make sure that the guy is an OK business person."
Be my Vollentine
"Surer Days" will likely benefit from the label's experiences with "Room #4." Both records play like classic LPs from hitmakers of yore, forsaking flavor-of-the-month indie sounds in favor of the kind of streamlined pub rock that Tom Petty fans could cozy up to.
"I think the audience for it is a really hard audience to reach," says Jason Tom, Remedy's only full-time employee. "It's probably people that listen to college radio, but they're a little bit older and their taste in music has changed some and maybe they don't go to as many shows."
Album Mp3s

Room #4
Listeners who do remember Vitreous Humor or Pound's later recordings with The Regrets would be hard-pressed to find the same songwriter on "Surer Days." Whereas Pound's old recordings were noisy and obtuse, his new ones are mellow and intentional. In the same manner that Eric Bachman of Archers of Loaf reinvented himself as Crooked Fingers, Pound dives deep into folk, blues and country to develop a sound that's more reverential than cutting-edge.
"I can't see myself just adopting one style - 'alt-country' or whatever - and going with it," Pound says. "Whatever the subject matter demands for the song, that's the way the music goes."
The cheeky "Here My Noise" rambles like an outtake from Bob Dylan's "Bringing It All Back Home," while "Diana's Doves" coasts along like a lazy-day Merle Haggard ballad.
The only constant is each song's allegiance to its own particular character, though Pound's favorite songwriters - Harry Nilsson, Guy Clark, Townes Van Zandt - appear to exert a peripheral influence.
"You've got to have light colors as well as dark ones to make the darker ones seem like the right kind of dark," Pound says of his methodology for arranging the record. "When I looked at it, a lot of the songs were about love ... the lack of it, or the loss of it, or the misunderstanding of what it means."
Pound's band - David Swenson on keyboards and guitar, Jeremy Sidener on bass and Dan Benson on drums - fleshes out Pound's carefully composed tracks, which become more adventurous as the album develops. Recorded on ProTools at Neighborhood Studios, "Surer Days" was then turned over to veteran producer Jim Vollentine (Fastball, Spoon, The Only Children) for a one-week mixing session.
"We were really worried about all the geeky-sounding computer stuff," Pound says. "Jim brought lots of archaic-looking, bizarre equipment from the '50s with big knobs and made it sound a little more classic."
What's the frequency, Danny?
With the record nearly completed, Pound faced a difficult decision: his roommate Steve Squire was moving to Austin and trying to convince him to come along.
"There were a lot of things going on in my mind," Pound recalls. "There was a time when I wasn't sure the record was even going to come out, and I was just starting to get a little down on the whole thing."
Pound ventured south to see if the real Austin lived up to the romanticized Texan oasis portrayed in so many songs and films. His moment of clarity likely occurred around the time he walked into a bar and heard a honky-tonk band playing R.E.M. songs.
"People were two-stepping to 'Seven Chinese Brothers,'" he recalls. "I was kind of thinking, 'Is this what it is? Some guy in a 10-gallon hat doing R.E.M. covers?'"
Besides the obliterating heat, Austin wasn't quite the hotbed of outlaw-country cool that Pound had hoped for.
"It's not going to be me sitting around with Steve Earle in his living room taking pulls off a bottle of whiskey and trading tunes," he says. "Reality is much more harsh ... All the bass players probably play in 12 different singer-songwriter bands. I just really didn't feel like competing. I've got my band here - at least for now."
Upcoming shows
Arthur Dodge and the Horsefeathers
Nothing's "surer"
As Johnson seeks investors to help push "Surer Days" to a wider audience, Pound is preparing to embark on a 10-day tour with Arthur Dodge and the Horsefeathers - an economical proposition considering the two songwriters share the same backup band.
"Stay out of town as much as possible - that's my new theory," Dodge says. "If you're good you sell records, and the next time you're back the friends come."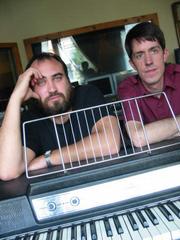 Johnson says both songwriters are making strides to "step up their game," though it may be awhile before Remedy achieves its goal of providing a sustainable living for its artists. The label's short-term goals include better distribution and a booking agent - both of which are likely to happen if both bands continue to build regional fan bases.
Johnson expresses measured optimism regarding Remedy's first two years. He hopes to sign more bands in the near future and plans are in store for an Arthur Dodge "solo" record that features contributions from a number of local musicians.
If anything is going to put Remedy over the top, it's patience.
"You don't start up a new business, buy a building and all your equipment, and then at the end of the first year look at what you spent and go, 'Oh my gosh, we took a bath,'" Johnson says. "You go, 'We've invested.'"