Wednesday, September 7, 2005
RollingStone.com's one-paragraph bio on Texas singer/songwriter Robert Earl Keen isn't quite right.
It says Keen and his college pal Lyle Lovett "used to sing and play in their underwear to astonished churchgoers across the street from Keen's house."
That's wrong. Or, at least, half-wrong.
"Lyle never really sat around in his underwear," Keen said. "He's not that kind of guy."
Keen, however, is that kind of guy. Definitely.
"But there were lots of other yahoos who sat out there in their underwear in a pile of Texas Pride beer cans," said Keen, a journalism major at Texas A&M; University in the late 1970s.
"We did kind of freak out the Presbyterians," he said.
Keen's porch and the wisdom found there became the subject of "This Old Porch," a tune co-written by Keen and Lovett that found its way onto Lovett's debut CD.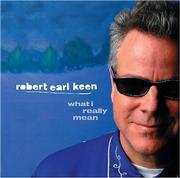 Since then, alt-country's Nanci Griffith, Joe Ely, Kelly Willis and Gillian Welch have each recorded Keen-penned songs.
The Highwaymen (Johnny Cash, Willie Nelson, Kris Kristofferson and Waylon Jennings) built their third album on Keen's "The Road Goes on Forever." And George Strait included Keen's "Maria" on his "On Step at a Time" CD.
"The way that happened was kind of cool," Keen said. "(Strait) was driving his son's pickup home one night and my CD ("West Texas") happened to be in the CD player. He heard it, he liked it, and that was it."
A similar thing happened with Jeff "You Might Be a Redneck" Foxworthy, who tapped Keen's "Copenhagen," a tale that touches on the real-life consequences of mixing women and chewing tobacco, for his "Crank It Up/The Music Album."
Past Event
Wednesday, September 7, 2005, 9 p.m.
Liberty Hall Cinema, 644 Massachussets Street, Lawrence
All ages / $18
"He heard it somewhere and thought it worked with his redneck thing," Keens said. "But you know what? That album sold a million copies, which is a lot! But I haven't found anyone who's heard it or bought it."
Character-driven stories
Keen, who's played "Austin City Limits" five times, is equal parts Will Rogers, Mark Twain and Kurt Vonnegut.
A wry and rowdy storyteller, he's blessed with a quirkiness that's capable of imagining a barroom encounter with Hank Williams in drag ("The Great Hank"), a biting ode to small-town politics ("Mr. Wolf and Mamabear") and an oh-so-true portrait of the screwiness that defines most American families ("Merry Christmas from the Family").
Q&A
Q. You're in a busy restaurant. There's one table available. You can have it, but you have to share. Would you rather dine with Hank Williams or Bob Dylan? A. "Hank Williams. There would definitely be more conversation, and you would definitely know that you'd be having a drink."
Q. What's in your CD player? A. "I think it's the new Green Cards' CD, 'Weather and Water.'"
Q. Did you do anything to commemorate Johnny Cash's death? A. "We were playing when we found out - I can't remember where. We played (Cash's) 'I Still Miss Someone.'"
Q. Looking back, what's your take on the flap over the Dixie Chicks' Natalie Maines' criticism of President Bush? A. "Overblown jingoism. People love to bring down people who are successful. Natalie is outspoken, always has been. I'm all for them. I think they're brave - what I was really impressed with was how brave they were afterward. They didn't back down and say they shouldn't have said what they said. "I live about eight miles away from (Dixie Chick) Emily (Robison), and some of those rednecks around there hung some dead coyote carcasses on her gate and stuff like that. I just find it appalling. We're supposed to be able to speak ours minds. She wasn't out there doing some kind of Abbie Hoffman, bring-down-the-establishment sort of thing. "(Maines) opened up the gates for people to kind of get brave and say what they think in the first place. I think she's got a lot of guts."
An avid reader, Keen said his tunes were drawn from a blend of personal experience and literary inspiration.
"I get some story ideas from books," he said. "A lot of times, there's just kind of a vibe I get from a book, like a sad, war-story love kind of thing or maybe a vast western setting or something. I find that this feeling - whatever it may be - provides a setting, and in this setting I'll stick in the characters.
"When I write, what I have is a room full of guitars and books and a little refrigerator with a couple beers in it," he said. "I stay in there and read books and bang on guitars until I come up with some songs."
He added, "I sort of like character-driven stories."
Keen's list of favorite authors includes John Cheever, Raymond Carver, Flannery O'Connor and barfly extraordinaire Charles Bukowski.
"I was pretty good friends with Larry Brown. I read all his books," Keen said. "I think he was fabulous."
Brown, a Mississippi firefighter-turned-author, wrote "Dirty Work," "Joe" and "Fathers and Sons." He died last year at age 53.
Cool country
Keen's musical influences - country and country swing, mostly - are rooted in eight-track tapes.
"The first eight-track tape I bought was a Jimmie Rodgers tape," Keen said. "I listened to it until it fell out of the tape player and broke."
When he was 14 and most of his classmates were dealing with the Beatles' breakup and the ascension of the Rolling Stones, Keen couldn't get enough of Bob Wills and His Texas Playboys.
"I skipped class and smoked pot just like everybody else," Keen said. "I wasn't living in a bubble; I knew all that other stuff was going on. I just happened to like Bob Wills. I like the sound, the whole horns-and-fiddles thing, the big-band country sound. It's cool."
Keen's appearance today at Liberty Hall marks the start of a three-month tour behind his latest CD, "What I Really Mean."