Saturday, September 10, 2005
Vicki and Patrick Langston's front porch is like no other.
"Oh, we probably have 70 pieces out here. They vary in size," she said, referring to the chain-saw sculptures she and her husband carve from the hauled-in remains of dead trees.
"We would never work on a live tree," she said. "It just wouldn't be right."
Lately, the couple - she's a former nurse at Menninger, he's a machinist at the Goodyear plant in Topeka - have been gearing up for the Oct. 15-16 Maple Leaf Festival in Baldwin.
"We go every year. It's great," said Langston, who lives a couple miles west of Perry.
It's good for sales, too.
"It's one of our biggest weekends. Of course, part of that is because we're pretty reasonably priced," she said. "This is a hobby for us. We don't do it to make a living doing it."
Langston said they recently sold a "bear-standing-up table" for $50 to a customer who assured them it would have gone for $300 in Colorado.
Photo Gallery
Chain-saw sculptures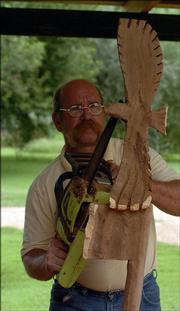 "Patrick mainly does the bears, I do mainly people," she said.
The couple's best-known sculpture, perhaps, is the totem pole at the Lawrence KOA campground, 1473 Highway 40.
Langston said she and her husband were each reared in families that burned wood for heat.
They're comfortable around chain saws.
The switch from firewood to sculpture came after a trip to Branson, Mo.
"What happened was we were in Branson at Silver Dollar City, and I saw this bear (sculpture) that I really liked. But I thought it was too expensive," she said. "So, being a woman, I told my husband, 'I bet I could do that.'
"When we got home, Patrick got me a big log and said, 'OK, it's a bet. Let's see you do it.'"
She did. Patrick soon followed suit.
While in high school, Patrick and Vicki took art classes.
"It doesn't have much to do with what we're doing now," she said. "This is different. But if you show me a picture of what you want done, I can get pretty close to it."