Saturday, September 10, 2005
Connie Finnegan forgets about everything and relaxes when her hands are busy molding clay on her pottery wheel.
"I really find inner peace, and it's an escape for me," said the artist, who lives about 10 miles west of Lawrence.
Finnegan will be one of more than 170 area artists with work on display and for sale at the 2005 Fall Arts and Crafts Festival on Sunday at South Park.
Duane Peterson, special events director for Lawrence Parks and Recreation, said he expected 8,000 to 10,000 people to attend Sunday. The festival lasts from 10 a.m. to 5 p.m.
The former teacher has toyed with pottery for about 30 years as a hobby, and she has owned a pottery wheel for about 20 years.
Now making pottery and clay pieces is part of her new career, she said. Since December, she has crafted 70 items for Sunday's festival, which will be her first.
Many of her clay items have specific functions, such as a humidifier that sits on top of a heat radiator or a "toad inn," which she said provided cool shelters for toads during the summer and allowed them to eat pests such as mosquitoes. She also likes to design coffee mugs.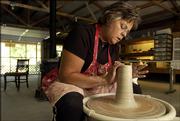 "It's all art. They're all creative expressions," Finnegan said.
Five bands that will perform at the park's gazebo are Billy Spears Beer Bellies at noon; Lonnie Ray's Blues Band at 1 p.m.; Billy Ebeling & the Late for Dinner Band at 2 p.m.; Key West Jazz Quartet at 3 p.m.; and The Konza Swamp Band at 4 p.m.
Children's entertainment will include a moon walk area with a slide, train rides, Free State Farm pony rides and swimming in the wading pool.
Francis Sporting Goods and Jayhawk Trophy will sponsor the Massachusetts Street Mile, which starts at South Park at 10 a.m. The adult runner fee is $13; children's is $11. Walkers must pay $5. The race is open to people 5 and older.
More like this story on Lawrence.com