Sunday, September 11, 2005
That old saying about the Kansas weather - the one that says if you don't like it, stick around a few minutes and it'll change - might also apply to the Collage Concert Friday at the Lied Center.
The sixth-annual concert, a kickoff for the Kansas University School of Fine Arts, will feature 16 performances including music, dance pieces and video presentations about art.
"We want to highlight all the things that go on in the Fine Arts - in art, design and music and dance," said Larry Mallett, a concert organizer and chairman of the department of music and dance. "We want as many short events as possible. We try to keep them three to five minutes long."
This year's concert will be at 7:30 p.m. Friday at the Lied Center. A fund-raising reception will follow around 9 p.m. in the Seymour Gallery at the Lied Center.
The concert and reception raises between $8,000 and $10,000 a year to support travel by students to exhibits, galleries and other opportunities, Mallett said.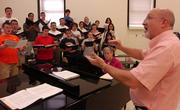 The music from this year's program includes performances by the Wind Ensemble, Glee Club, Orchestra, Chamber Choir, Percussion Ensemble and the Marching Jayhawks.
It also includes two dance pieces, a multimedia art installation by students and faculty, and video presentations featuring several art and design projects.
For the first time, a visiting artist was invited to perform. Gabriela Lena Frank, a composer and artist in residence, will perform a piano solo she composed based on South American folkloric music.
"It's a variety of stuff," Mallett said. "It's very exciting. If anybody's asleep before they come in, they won't be when they leave."
See the show
What: Sixth-annual College Concert, with performances by students and faculty in the Kansas University School of Fine Arts
When: 7:30 p.m. Friday.
Where: Lied Center
Tickets: Available by calling 864-ARTS or 864-3982. Cost is $12 for the public and $7 for students and senior citizens, for the concert.
Reception: A fundraising reception for the School of Fine Arts will follow the concert around 9 p.m. Tickets are $75 and are available by calling 864-3421.
And, Mallett said, the program should all be fairly accessible for anyone. Lindsay Ohse, a senior from Topeka, said she changed her vocal performance piece to make sure it was accessible.
"I'm doing 'Summertime' by Gershwin," Ohse said. "I was going to do this flashy opera piece and sing up into the stratosphere, but they said people would know 'Summertime' and we didn't want to scare people away."
Ohse said she looked forward each year to hearing and seeing the talents of other students in the School of Fine Arts.
"It's kind of neat," she said. "We get to see what the dance people are up to and other people. It's neat when everybody gets together."
More like this story on Lawrence.com