Monday, September 12, 2005
By day, Kerry Niemann cleans houses. By night, she helps Douglas County Jail inmates clean up their lives.
"It's a very under-served population," says Niemann, a volunteer art therapist. "These are people who are walking down our sidewalks ... We're with them, and it doesn't behoove anybody to just lock them up and forget about them"
Each week, Niemann hosts five art classes at the jail. She donates her time and skills simply because she enjoys working with prison populations, a passion she has been pursuing since she attended Emporia State University and earned an art therapy degree.
"I feel compelled on a personal, spiritual and social level to help these people as much as I can," Niemann says. "Even if I was certified, I probably would not be paid for this kind of work."
Volunteer teachers are in high demand at the jail, which hosts a variety of programs designed to prepare inmates to re-enter society. The jail currently needs tutors to teach basic math, job interview skills, household budgeting and parenting, but any kind of help is welcome, says Programs Director Mike Caron.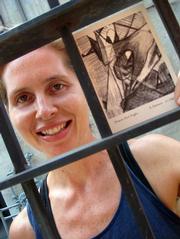 "If somebody has specific skills we can be very flexible," Caron says. "We put out sign-up sheets and usually everyone signs up."
Niemann's classes emphasize the rewards of drawing from the subconscious, a technique she picked up in art school and carried into her own work (three of Niemann's paintings will be on display at the upcoming Lawrence "Own-Your-Own" Show - check lawrence.com/events for details). She encourages her students to draw at a fast pace in hopes that it will take their minds off of their day-to-day concerns.
"People come in looking traumatized," she says. "But then they leave and they're smiling."
While some potential teachers might hesitate to walk into a jail, Niemann says she has never felt endangered. Her biggest concern is getting her art supplies approved by a jail supervisor.
"A couple months ago I took in some clay - a seemingly innocuous material - and two weeks ago they had a shakedown and it turned out that people had been hiding razors in it," she says. "We're kind of laying low with the clay right now."
Persons interested in volunteering at The Douglas County Jail can contact Mike Caron at 785-830-1055 or mcaron@dgso.org. Volunteers assist with educational, exercise and religious programs that prepare inmates to lead law-abiding and functional lives. Opportunities range from direct contact with inmates to little or no contact.
More volunteer opportunities available at rhvc.org
Niemann's goal is to instill self-confidence in her students so they can be productive when they re-enter society. In many cases, her classes have short-term benefits as well.
"The officers were noticing that afterwards they were much more quiet - not banging and rapping all night," she says.
"I know these people live in this town ... I don't want that guy who's been banging on the door all night living next door to me. I want the guy who's had some art therapy; who's had some writing; who's a little more chill."