Friday, September 16, 2005
The University Theatre kicks off its fall season tonight with a musical revue featuring the work of European author, composer, actor and director Jacques Brel.
"Jacques Brel Is Alive and Well and Living in Paris" is made up of 23 mini-plays, each with its own theme.
"Unity is created through variety," says director John Staniunas, KU associate professor of theater and film. "The unity is Brel's music and lyrics; the variety is in the way they are presented."
Presentation is one of the main challenges with this show. Because Brel's work does not include a script or dancing, cast members have the freedom to improvise the acting and choreography.
"The good thing about this show is that it will grow positively with each performance," Staniunas says.
The 10-member cast performs several numbers together as a company, such as the catchy "Marathon," a romp through the decades complete with hula hoops and berets, as well as solos, including the heartrending "Mathilde." Although Brel's work runs the gamut from love to commentaries on society, almost all of the songs have an upbeat, slightly satirical tone.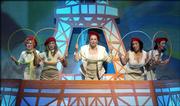 In keeping with the Parisian theme, the set design includes work from French painters who were contemporaries of Brel. A 20-foot-tall replica of the Eiffel Tower dominates the stage while the floor swirls with a maelstrom of colors. Scenic designer Mark Reaney created the tower based on the work of cubist artist Robert Delaunay.
"For some reason, he always did the Eiffel Tower orange," Reaney says.
Reaney's tower, apart from being orange, also had to be practical. Members of the cast perform several songs while walking and standing on it.
In contrast to the explosion of color in the set, costumes for the performers are all in shades of white - a difference that extends even to the piano, which itself was a matter of concern.
Past Event
Friday, September 16, 2005, 7:30 p.m.
Crafton-Preyer Theater, Murphy Hall, 1530 Naismith Dr., Lawrence
All ages / $10 - $18
"We had to scrap down our existing piano and paint it white," Reaney says. "You'd think that in a city as big as Lawrence you'd be able to find a white piano."
In spite of struggles with scripting and sets, "Jacques Brel" stays true to the style and character of the artist himself. Brel, a composer, musician, singer, film director and actor - as well as a pilot and a sailor - had as much variety and excitement in his life as in his songs. Though he is extremely popular in Europe, the United States has yet to be impacted by his work.
Staniunas hopes to change that.
"I'm inclined to pick projects that stretch me as an artist," he says. "Brel's work is about love, peace, war, friendship, hope, desire, life and death, society - everything."