Monday, September 19, 2005
Kim Hewett always hated math. Until, that is, she started teaching it.
"Now I really like it," says Hewett, a volunteer at the Adult Learning Center. "It's something that I can help people with, and it kind of gives me a purpose and makes me feel like there's a reason to be around."
Volunteer tutors like Hewett help adults study for their ABE (Adult Basic Education) certificates and GEDs, though some of the center's students are simply seeking to better themselves or help their own children with homework.
Tutors help with subjects like reading, writing and math - basic skills that are essential to finding a job.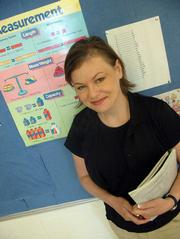 "People really need the assistance," says Hewett, 35. "The students say 'thank you' to me everyday."
Ironically, Hewett herself has been out of work for nine years. Her bouts with diabetes and depression make it difficult for her to hold down a steady job, though she does earn a monthly disability check.
According to Hewett, the Adult Learning Center probably helps her as much as it helps her students.
"I feel really good after going there," she says. "I kind of dread it in the morning because I'm not really a morning person, but after I go there I always know that I want to go back because the people there are really wonderful."
Since many of the center's students study for a year or longer, Hewett often develops long-lasting relationships that extend beyond the classroom.
"We become rather chummy," she says. "People come back in to see us and see how their friends are doing."
Persons interested in volunteering for the Adult Learning Center can contact Linda McGuire at 832-5960. The center currently is seeking volunteers to assist with ESL classes (no foreign language experience required) and ABE/GED classes. Volunteers are expected to work a three-hour shift at least once a week.
More volunteer opportunities available at rhvc.org
One reason former students may seem so friendly is that they usually pass their tests, Hewett says.
"These sorts of resources exist in other cities, but Lawrence is a little bit tougher with their standards," she says. "We want to be sure that they're ready and they don't waste their money on a GED that they're not going to pass."
Hewett considers her six-hour-a-week work load to be a pretty light commitment. She recommends the job for anyone with a positive and encouraging attitude.
"A lot of people just suffer from low self-esteem, and a lot of times that keeps them from doing well," she says. "Anybody who can bolster a person's spirit a little bit really can help about a hundred percent."