Friday, September 23, 2005
Carrie Mantooth is musically illiterate.
She doesn't play an instrument. She doesn't read sheet music.
But during the last year she has become a virtuoso of sorts.
"I took a walk in my husband's shoes and stepped into the world of music," she says.
Her husband, noted jazz pianist Frank Mantooth, died of a heart attack in 2004. At the time of his death, he was enthralled with an ambitious big band project in which a dozen female vocalists were paired with a jazz standard that he specifically arranged for them.
"My role and position in Frank's life was to be his wife and the mother of his child," says his widow Carrie, a Lawrence elementary school counselor. "But very soon after his death I decided I have to bring this project to fruition because he was so far along on it."
Her passionate perseverance has helped the CD, "Ladies Sing for Lovers," find a home on MCG Records, which released the album nationally in June. Now she is tackling an additional endeavor.
"This is his last chance for a Grammy," she says.
Despite having racked up 11 previous Grammy nominations, the late Mantooth went to his grave without a single win.
"Carrie was incredibly brave through this - through her whole grieving process - because she picked up the ball immediately," says Freddie Breitberg, who engineered and co-produced "Ladies Sing for Lovers."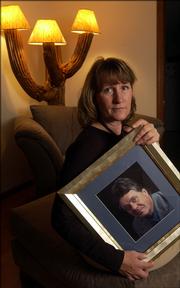 "It's really interesting and ironic to be able to finish someone's art who passed away - unique, really."
Completing the record
After Frank died while the couple were living in Garden City, Carrie didn't quite know how to go about organizing the framework of his musical material into a proper album.
"I witnessed him work incredibly hard on this project. He worked with the BBC Orchestra, the Czechoslovakian Symphony Orchestra in Prague. He did the brass in Las Vegas, the French horns in New York, the rhythm section in Kansas City. He had all this done ... then he died."
So she recruited Breitberg, who had co-produced and engineered five big band albums with her husband, and music copyist John Blane.
"The recording had been done up through everything but a couple ancillary instruments and the vocals," Breitberg explains. "Because the rest was all on paper, we had a shot at it, and his wife knew it."
Working from Frank's notations, the team went about mobilizing respected singers such as Oleta Adams, Karrin Allyson, Stacy Rowles and Diane Schuur to record their parts.
By the end of the sessions, 150 personnel had contributed to the project.
Carrie says, "Every step of the way had its own challenges: getting everybody onboard, getting the contracts signed, getting everybody recorded, getting it mixed, finding a label, getting it released, getting it publicity, getting it airplay."
Moreover, she felt the music and lyrics of the finished CD represented a deeper meaning.
"It's a love story," she says. "It talks about how a love story evolves and unfolds, and how it ends."
Introduction to jazz
Carrie first met Frank while living in her native Garden City, where she was a junior high art teacher and a single mom with three children.
Frank was residing in Chicago but was invited to Garden City as part of an artist in residency program. Two months into the stint, a friend set the pair up on a blind date.
"I had no clue who he was," she recalls. "I asked him how anybody makes a living playing a piano.
"The night he proposed to me, I was still like, 'What is it that you do?' He said, 'Let me show you.' He flew me to Kansas City and arranged, composed and played with the Kansas City Symphony. Then he asked me to marry him."
It was Frank's first marriage at age 48, and it was to a bride 16 years his junior. Two years later, they had a child together named Matthew.
After the musician's death, Carrie decided to move to Lawrence to be near her three adult children, who all attend Kansas University.
The elusive Grammy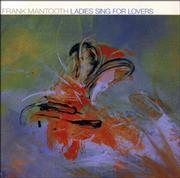 Now that the CD is in stores and on the jazz charts (a modest No. 44 at last count), the project is not over for Carrie. She is actively trying to get the work recognized for a Grammy.
Fledgling record label MCG Jazz has found success with garnering its artists the prized awards, notably Nancy Wilson's last record, "R.S.V.P." The company has submitted "Ladies Sing for Lovers" in several categories, including instrumental arrangement accompanying vocalist(s).
"Frank is more known for his arranging than for his playing, although he's a very accomplished jazz pianist," she says.
While producer Breitberg considers the record "Frank's finest work," he predicts it will be difficult for the effort to land on the Grammy ballot.
"Will it make the final five in that category? I don't know," he says. "A grass-roots movement is what it would take to compete with bigger labels with bigger names."
Grammy nominees will be announced in December.
Until then, Carrie Mantooth is gathering all the friends and contacts she has in the music industry to ensure Frank earns his dozenth Grammy nomination and his first win.
She says, "The greatest memorial tribute I can give my husband is following his last project to its last potential."
More like this story on Lawrence.com