Friday, September 23, 2005
So just who are "Jerry's Girls"?
Patrons of the Lawrence Community Theatre will soon know them as Sarah Young, Franci Talamantez, Annette Cook, Cheryl Banez Ocfemia, Barb Wasson, Sarah May Shaffer, Catherine Skorupski and Heather Ballinger. The Lawrence area women make up the cast of Lawrence Community Theatre's production of the Jerry Herman musical revue.
A familiar face on Broadway, Herman and his well-known musicals are the inspiration behind "Jerry's Girls," which opens the theater's new season tonight.
"Any Jerry Herman fan and any fan of theater, really, will find this a lively, entertaining show," said music director and keyboardist Mary Baker.
The original production of "Jerry's Girls" began as a cabaret in New York with only four actors. Director Terrance McKerrs, from Topeka, also intended to do the revue with only four performers, but after auditions ended up with twice as many.
"There was such an incredible amount of talent at auditions," he said. "Our original stage manager was an amazing dancer, so she ended up in the show and our prop person became the stage manager!"
Photo Gallery
'Jerry's Girls'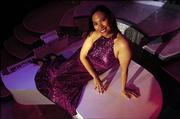 Herman has been described as a Broadway standard, one of the "good old boys." Many of his songs have become standards as well.
Among the song selections included in the revue are "Milk and Honey," from Herman's first musical, and "It Takes A Woman," from his smash hit "Hello, Dolly!"
"Time Heals Everything" a song from "Mack and Mable" about moving on after a breakup, is another Herman classic.
"It's a beautiful song," Baker said. "It has such rich chords and a very poignant message."
Not all of the pieces are about romance woes. Songs vary from comedic to touching to 1940s tap numbers.
"Herman's work is very hummable; you can remember it," McKerrs said. "It's also about universal themes everyone can understand."
Mounting a quality production that lives up to the work of Jerry Herman takes time, McKerrs said. Production and work on the Lawrence show began six weeks ago.
If you go
What: "Jerry's Girls" When: 8 p.m. Sept. 23-24, Sept. 30-Oct. 1 and Oct. 7-8; 7:30 p.m. Sept. 29 and Oct. 6; and 2:30 p.m. Sept. 25, Oct. 2 and Oct. 9 Where: Lawrence Community Theatre, 1501 N.H. Tickets: $15-$21 Ticket info: 843-7469
"It takes tons of hours to create one moment on stage," McKerrs said.
The show contains more than 100 costumes, some of which were created from scratch by costume designer Jane Pennington. The show also includes more than 200 light cues.
"If the show looks easy to the audience, then that's our goal," McKerrs said. "But putting together a quality show takes a lot of time and money. It's the difference between good and great. I always aim for great."