Monday, September 26, 2005
Photo Gallery
Walnut Valley Festival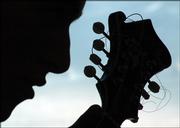 For the past 34 years, thousands of musicians, campers and fans of acoustic music have set aside the third weekend in September and crowded into the Cowley County Fairgrounds in Winfield for the Walnut Valley Festival. Very little comes between these loyal fans and the annual festivities. Like a popular bumper sticker explains, "I can't, I'm going to Winfield."
This year's festival, Sept. 14-18, featured more than 30 entertainers and bands with eight instrumental contests, including the international championships in finger style guitar and autoharp, as well as the national championships in mountain dulcimer, guitar flat pick, hammer dulcimer and bluegrass banjo.
Whether watching virtuosos like Australian guitarist Tommy Emmanuel on the main stage or sitting around a campfire picking out tunes with friends, the Walnut Valley Festival makes everyone part of the music.
More like this story on Lawrence.com